Old-Fashioned Zucchini Casserole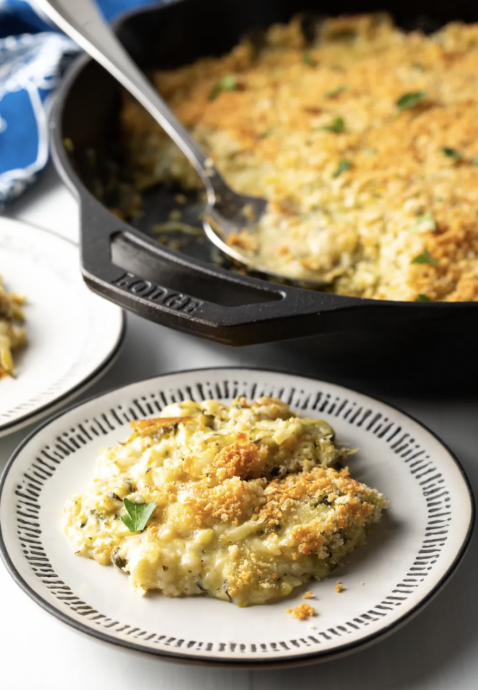 Baked Zucchini Casserole Recipe – Everyone loves this classic one-skillet dish that is easy to make with fresh zucchini, melty cheese, and a crisp Panko topping!
What do you do with all those garden zucchinis when your kids refuse to eat them? You bake them with bread crumbs and plenty of cheese… Ta-da! The entire household is happy and you get to pat yourself on the back for getting those veggies into a dinner everyone will love.
No one can resist this simple decadent Cheesy Zucchini Casserole. It's the perfect way to sneak greens into your family's diet. Crispy cheese crust around the edges of the pan, crunchy bread crumb toppings, and silky shreds of zucchini and gooey molten cheese inside. Who is going to say no to all that flavor?!
Plus, this simple one-pan recipe does not require a baking dish, bowl, or colander to drain the zucchini!
Ingredients:
2 tablespoons butter
6 ½ cups grated zucchini for 4-5 zucchini
½ cup grated onion
4-5 cloves garlic minced
2 teaspoons Italian seasoning
8 ounces sharp cheddar cheese I used white cheddar.
2 cups panko breadcrumbs divided (could be GF)
½ cup mayonnaise
¼ cup grated parmesan cheese
Salt and pepper