Pizza Burgers (Turkey Burgers)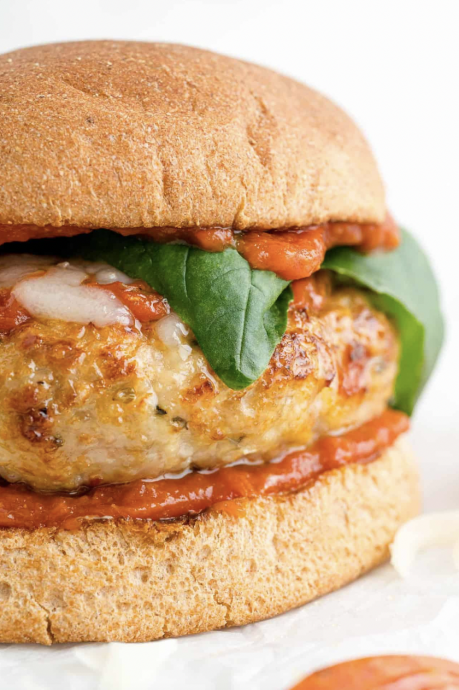 Pizza burgers take everything good about pizza and stuff it all into a burger: pepperoni, cheese, sauce, and fresh basil. If you love pizza (and who doesn't?), you'll love these burgers.
(I may have a pizza fixation. I just counted and there are 34 posts on my site that feature some variation of pizza.)
You'll love these juicy turkey burgers, seasoned with garlic, oregano, and onion, and studded with bits of spicy pepperoni and Parmesan cheese. And we don't stop there. These are pizza burgers so they are topped with pizza sauce, mozzarella cheese, and fresh basil, just like your favorite pizza.
Ingredients:
1 pound ground turkey
1 ounce sliced pepperoni, finely chopped, about ⅓ cup
1 small yellow onion, grated or finely diced (grate over bowl to catch juices)
1 large egg, lightly beaten
¼ cup finely shredded or grated Parmesan cheese
¼ cup panko bread crumbs
1 teaspoon dried oregano
½ teaspoon garlic powder
¼ teaspoon kosher salt
¼ teaspoon coarse black pepper
¼ cup pizza sauce, more if desired
¼ cup shredded mozzarella cheese
12-18 large basil leaves (they will be standing in for lettuce)