Bacon Alfredo Pasta Casserole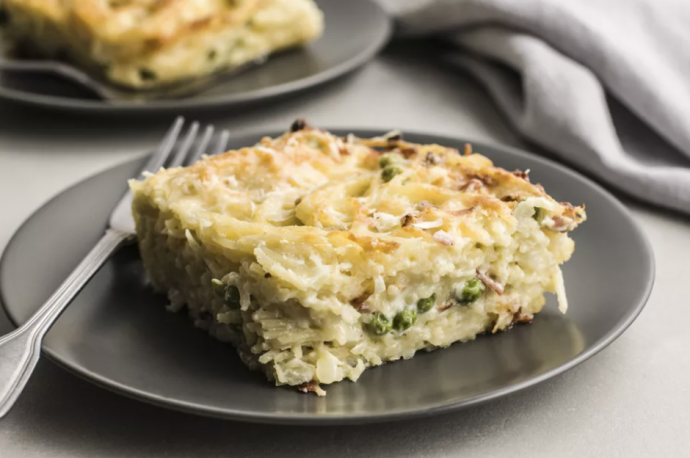 Bacon Alfredo Pasta Casserole is a wonderful, simple, and make-ahead recipe perfect for a family dinner or entertaining. It's like Spaghetti Carbonara or Fettuccine Alfredo, but made in a large pan to feed a crowd. And it's actually richer than those two recipes because the sauce is made with cream cheese in addition to a white sauce.
Cut this wonderful recipe into squares to serve with a green salad and a glass of white wine. Serve this dish on a cold winter night, or for a holiday dinner party. It's that good.
Ingredients
2 tablespoons butter
1 onion (chopped)
2 cloves garlic (minced)
1 (16-ounce) jar Alfredo sauce
1 (8-ounce) package cream cheese (cut into squares)
1/2 cup heavy cream
1 1/2 cups white cheddar (or Havarti cheese, shredded)
1 (16-ounce) package spaghetti pasta
2 eggs (beaten)
1/2 cup light cream
1 (16-ounce) package frozen baby peas
1 cup Parmesan cheese (grated)
10 slices bacon (cooked and crumbled)