Cheesy Sloppy Joe Casserole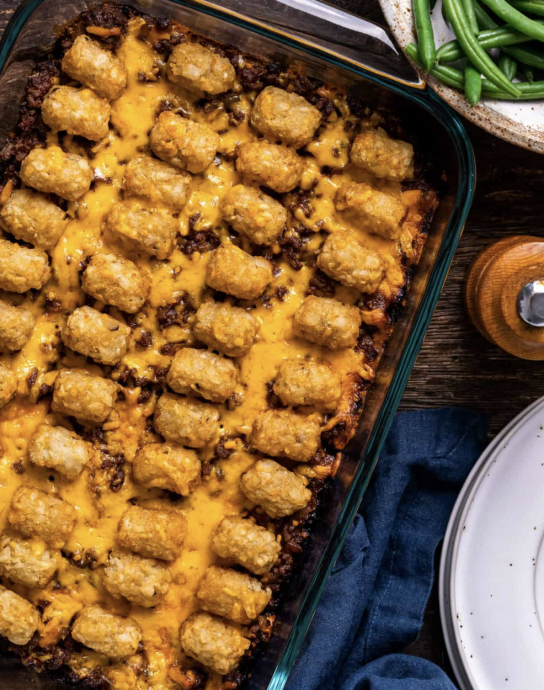 This sloppy joe casserole is a hearty freezer-friendly dinner for the whole family! A rich and saucy homemade sloppy joe layer is topped with cheddar cheese and crispy tater tots, and baked until bubbly and hot. Perfect for a busy weeknight or casual weekend supper!What's not to love? The savory/slightly sweet flavor of the saucy sloppy joes topped with gooey cheddar cheese and crispy potato nuggets… it doesn't get much better!
Plus, the entire casserole can be assembled ahead, frozen, or parts of the recipe can be prepped ahead of time. This saves you precious time on those busy weeknights, and is a lifesaver on those days where you just don't want to cook but you need to get dinner on the table!
Ingredients:
Sloppy joes
1 tsp olive oil
1 lb. ground beef (I use 80/20)
1 Tbsp unsalted butter
1/2 large yellow onion finely chopped
1/3 medium green bell pepper finely chopped
3 cloves garlic minced
1 Tbsp tomato paste
2/3 cup ketchup
2/3 cup reduced sodium beef broth or water
1 Tbsp packed light brown sugar (optional and to taste)
1 tsp yellow mustard
3/4 tsp chili powder
1/2 tsp Worcestershire sauce
1/2 tsp kosher salt
1/4 tsp red pepper flakes or to taste
few dashes of hot sauce
Casserole
1 1/2 cups shredded cheddar cheese
frozen tater tots as many as you'd like to fit on top of the sloppy joe layer