Spring Rolls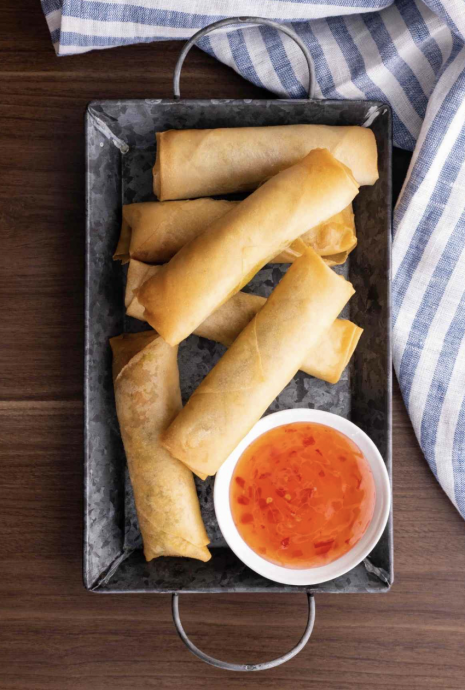 Spring Rolls are a super light, crispy and tender vegetarian appetizer cousin of traditional egg rolls. Make ahead and freeze before frying!
Spring Rolls are so much more than just vegetarian egg rolls. They have a super thin, crispy wrapper that basically shatters when you bite into it. Inside are tender, seasoned cooked vegetables seasoned with soy sauce, mirin, and sesame oil. They are perfect for dipping into sweet chili sauce.
You can fill the spring roll wrappers with anything you'd like. This recipe uses a traditional vegetarian filling but chicken, pork or even a shrimp filling would be amazing! Especially shrimp, because the light tender seafood goes great with the other flavors and textures in Spring Rolls.
Serve these as an appetizer with Sweet and Sour Sauce and Chinese Hot Mustard for dipping.
Ingredients:
1/4 cup canola oil , divided
8 cups napa cabbage , sliced thinly
2 cloves garlic , minced
2 carrots , sliced thinly
8 ounces bamboo shoots , sliced thinly
2 tablespoons mirin
1/4 cup low sodium soy sauce
2 teaspoons sesame oil
2 tablespoons cornstarch
24 8 inch square spring roll wrappers
canola oil , for frying