Healthy Tuna Noodle Casserole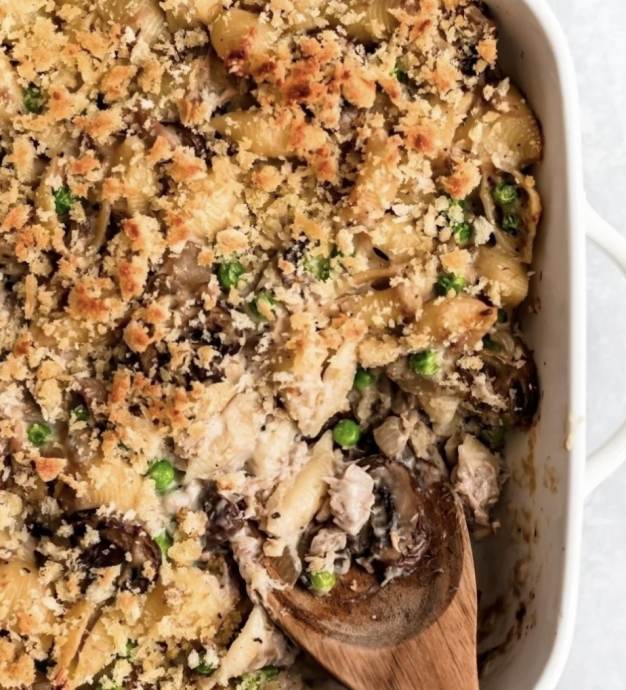 If you're looking for a healthy tuna noodle casserole made from scratch, look no further! This lightened up tuna noodle casserole is made with a creamy, light parmesan mushroom sauce, noodles, canned tuna and peas. You'll fall in love with this easy dinner recipe that's bound to become a forever favorite!
If you haven't had tuna noodle casserole before, then you might be wondering what the heck it is. Traditional tuna noodle casserole is made with cream of mushroom soup, egg noodles, peas and of course tuna. Most people top it with breadcrumbs or even potato chips for a crunchy topping. It's creamy, savory, and absolutely delicious!
Ingredients:
10 ounces dry pasta shells (or use rotini, fusilli, or whatever pasta you'd like)
3 tablespoons butter, divided
1 white onion, diced
8 ounces baby bella mushrooms, sliced
1 teaspoon dried thyme
Salt and pepper, to taste
1/4 cup all purpose flour (or whole wheat flour or all purpose gluten free flour)
1 3/4 cup unsweetened almond milk (or cashew milk or regular milk)
½ teaspoon garlic powder
1/2 cup grated parmesan cheese
2 (5 ounce) cans tuna, drained
1 cup frozen peas
Salt and pepper, to taste
For the topping:
1/2 cup breadcrumbs, gluten free if desired
1 tablespoon butter