Crumbl Pecan Pie Cookies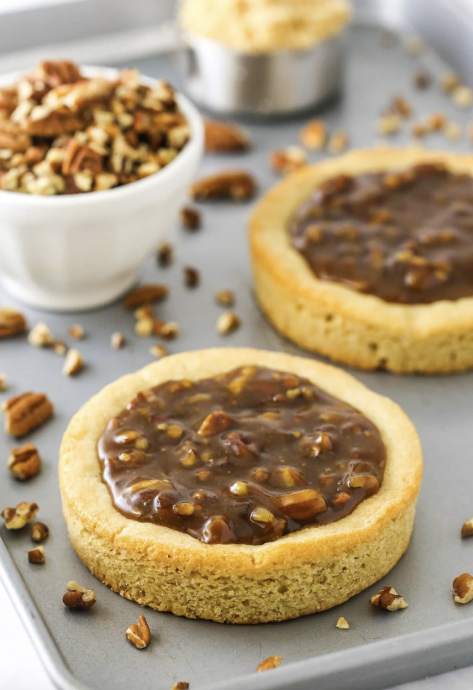 Chewy sugar cookie cups are filled with gooey homemade pecan pie filling in these easy Copycat Crumbl Cookies! It's like having your own little pecan pie, but in cookie form.
I was introduced to Crumbl cookies earlier this year and have since become quite the fan. Not all of their cookies have swept me off my feet, but overall, they're totally delicious. They tend to be soft, chewy and sweet, and they are certainly massive. That's why I like to think of these glorious treats as mini pies rather than giant cookies!
As soon as I tried the Crumbl version, I knew I had to create my own. I modified the pecan pie filling from this layer cake and loaded it into a buttery sugar cookie cup. The results were even more scrumptious than I ever could have hoped! Once you bite into the tender sugar cookie base, the caramel-y pie filling melts in your mouth to leave behind the satisfying crunch of the chopped pecans.
Ingredients:
For the Sugar Cookie Cups
2 3/4 cups plus 2 tbsp (374g) all-purpose flour
1/2 tsp baking soda
1/2 tsp salt
1 cup (224g) unsalted butter, room temperature
3/4 cup (168g) light brown sugar
1/4 cup (52g) granulated sugar
1 large egg
1 tsp vanilla extract
For the Pecan Pie Filling
1/2 cup plus 2 tbsp (140g) light brown sugar
1/2 cup dark corn syrup
1/4 cup unsalted butter, cubed
2 large eggs
1 tsp vanilla extract
1/4 tsp salt
1 1/3 cups (133g) chopped pecans