Chicken Fettuccine Alfredo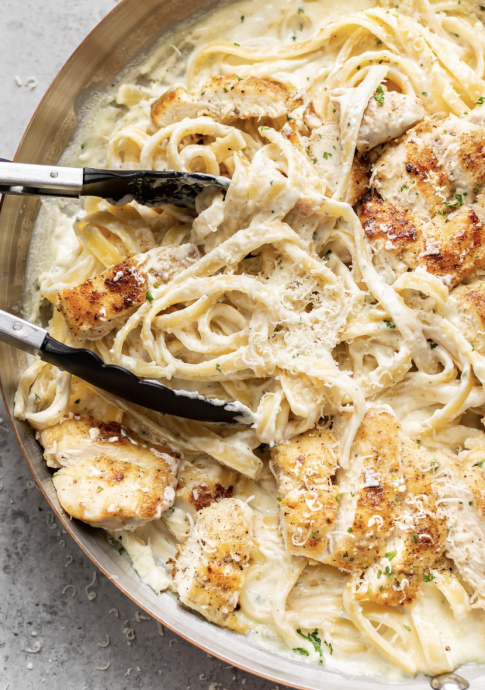 This easy Chicken Fettuccine Alfredo recipe has the most dreamy parmesan garlic cream sauce that perfectly coats the pasta. Golden pan-fried garlic chicken takes this dish to the next level!
You've been loving my Shrimp Alfredo, so I figured it was time to make a chicken version! The recipe is very similar because why fix what ain't broken. I included easy instructions for how to cook chicken for Fettuccine Alfredo. Just season it with salt & pepper and garlic powder, coat it in flour (this makes it less likely to stick to the pan and gives it a nice golden coating), pan fry it, then slice it up and add it to the pasta when it's done. You could also use rotisserie or cooked chicken if that's easier for you.
Alfredo sauce is simply a mix of cream, butter, and parmesan cheese, but I also add cream cheese to it, and it's a game changer. It helps thicken the sauce and adds a delicious bit of tanginess to it. I also add garlic... obviously.
Ingredients:
2 chicken breasts cut in half lengthwise
1/2 teaspoon garlic powder
Salt & pepper to taste
Flour for dredging
1 tablespoon olive oil
3 tablespoons butter divided
8 ounces uncooked fettuccine
4 ounces cream cheese (I used 1/2 block of Philly) softened
1 cup heavy/whipping cream
1/4 cup chicken broth
2 large cloves garlic minced
1 cup freshly grated parmesan cheese