Fall Quiche With Roasted Butternut Squash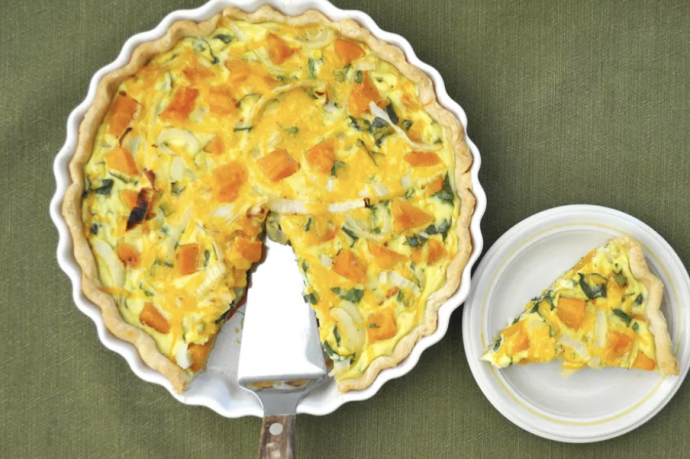 Quiche is perfect for breakfast or lunch—it's hearty and flavorful, can be served warm or at room temperature, and it travels well. It's fancy enough for guests and approachable enough for every day. To ease into autumn, this fall quiche is filled with butternut squash, onion, and Swiss chard. The squash is roasted to bring out its natural sweetness, and roasted garlic punches up the flavor. Cheese and sour cream add creamy richness without making the dish too heavy.
Serve the quiche as a standalone light meal, or with fruit salad and potatoes for a brunch feast.
Ingredients
2 cups peeled and diced butternut squash
1 tablespoon canola or grapeseed oil
6 garlic cloves (unpeeled)
1/2 medium onion (halved and sliced)
3/4 teaspoon salt
3/4 teaspoon black pepper
1 pre-made pie crust
4 large eggs (beaten)
1/2 cup sour cream
1/2 cup milk
1 tablespoon flour
1 cup stemmed and finely chopped Swiss chard leaves
1 cup shredded sharp cheddar cheese