Vietnamese Fresh Spring Roll Bowls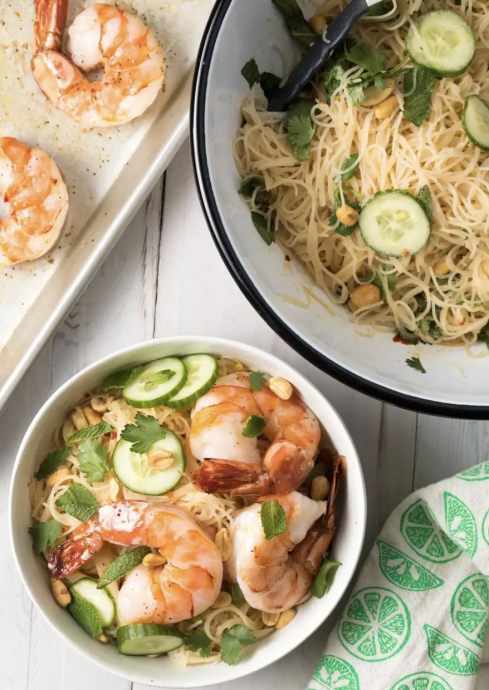 Vietnamese Fresh Spring Roll Bowls Recipe: All the flavors of traditional Gỏi Cuốn Vietnamese Cold Rolls in a fast and fresh bowl! Gluten Free, Dairy Free, and delish!! The spring rolls that aren't deep-fried? With fresh mint leaves and rice noodles inside a cellophane-like wrapper? The cold ones, with shrimp and pork, you find at most Vietnamese restaurants?
Every time we visit our favorite local Vietnamese restaurant we have to order these rolls with an extra-large side of peanut sauce. Cold Rolls are the perfect appetizer to get you in the mood for more Vietnamese goodness.
Ingredients:
For the Roasted Shrimp:
24 ounce raw jumbo shrimp, peeled and deveined
2 teaspoons sesame oil
Salt and pepper
For the Vietnamese Noodle Bowls:
1/3 cup fresh lime juice
1/3 cup simple syrup
3 tablespoons fish sauce
2 tablespoons peanut butter
2 cloves garlic
1/2-1 teaspoon crushed red pepper
For the Vietnamese Dressing:
7 ounce rice noodles, thin or thick
1 large english cucumber, sliced
1/2 cup fresh chopped mint leaves
1/2 cup Fresh cilantro leaves
1/2 cup roasted peanuts