Blueberry Cream Cheese French Toast Bake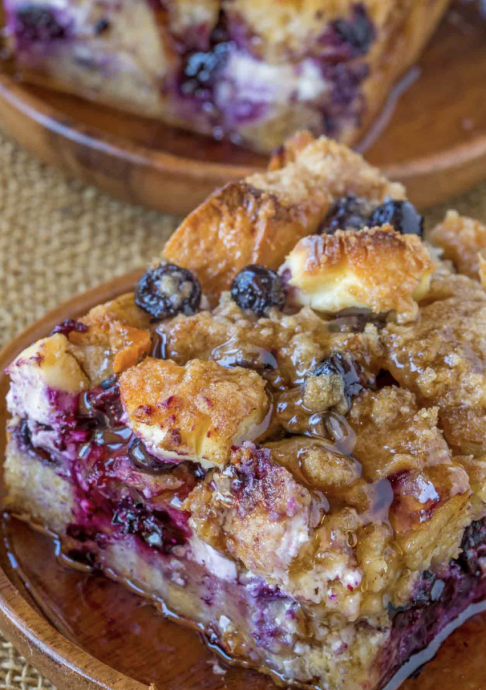 Blueberry Cream Cheese French Toast Bake Without Any Overnight Chilling Is The Perfect Cross Between A French Toast Bake And Blueberry Cream Cheese Danish.
We love the classic variety for it's ease and delicious crunchy brown sugar topping, but this blueberry cream cheese variety is as deliciously creamy and full of blueberry flavor as it is crispy like the original version.
We like to make this french toast bake (some call it a french toast casserole) for most holidays. This specific one is our go to for all spring brunches including the all important Easter brunch.
There's a lot of recipes out there for make ahead casseroles or make ahead french toast with an overnight soaking time. But this is altogether different with a soft middle but a crunchy crispy topping.
Don't forget to serve it with some delicious maple syrup!
Ingredients:
FRENCH TOAST BAKE
1 loaf French bread (I also routinely use a loaf of Texas Toast)
8 eggs
2 cups milk
1/2 cup heavy cream (half and half would work too)
1/4 cup sugar
1/2 cup brown sugar
1 tablespoon vanilla extract
2 teaspoons cinnamon
1/4 teaspoon nutmeg
8 ounces cream cheese cut into 16 pieces
1 pint blueberries washed and dried
BROWN SUGAR TOPPING
1/2 cup flour
1/2 cup brown sugar
1 teaspoon cinnamon
1/4 teaspoon salt
1/2 cup unsalted butter cold and cut into small squares