Crock Pot Ham and Lentil Soup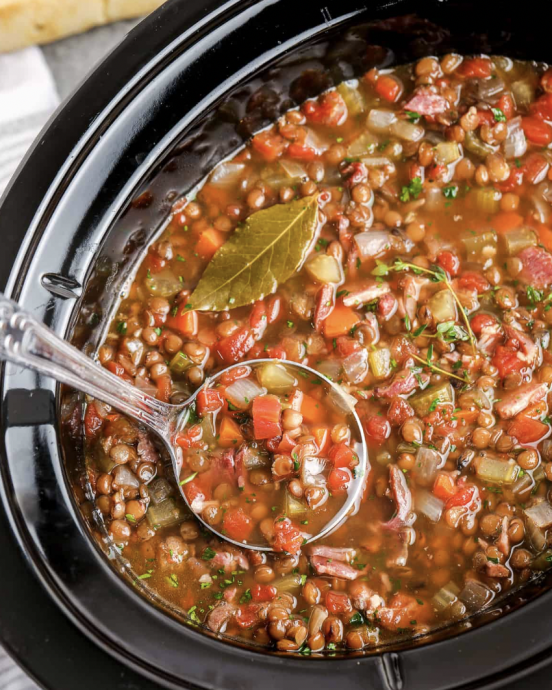 Lentils were an item many of you had in your pantry in 2020 when groceries were scarce so we created some recipes by request (like sloppy joes and shepherd's pie!). Since then, I've always got them stocked in my pantry!
Crazy easy to make, this soup almost cooks itself.
Slow-cooked lentils, veggies, and ham develop deep, rich flavors as they blend together.
This soup tastes even better the next day! It's great for leftovers.
Perfect for batch cooking! Double the recipe and save one for dinners and lunches all week long!
On a budget? This wholesome, savory soup is ideal for big families, big gatherings, and big appetites! Let everyone serve themselves from the Crock Pot with a hunk of crusty bread or dinner rolls!
Ingredients:
2 teaspoons butter
1 medium onion diced
3 stalks celery diced
2 large carrots diced
1 ½ cups dried green or brown lentils
6 cups chicken broth*
15 ounces petite diced tomatoes with juices
1 meaty ham bone or 2 cups leftover ham
2 cloves garlic minced
1 bay leaf
½ teaspoon black pepper
½ teaspoon dried thyme or 3 sprigs fresh thyme
1 tablespoon fresh parsley chopped