Nutrition-Rich Omega 3 Blueberry Breakfast Cookies (gluten free + vegan!)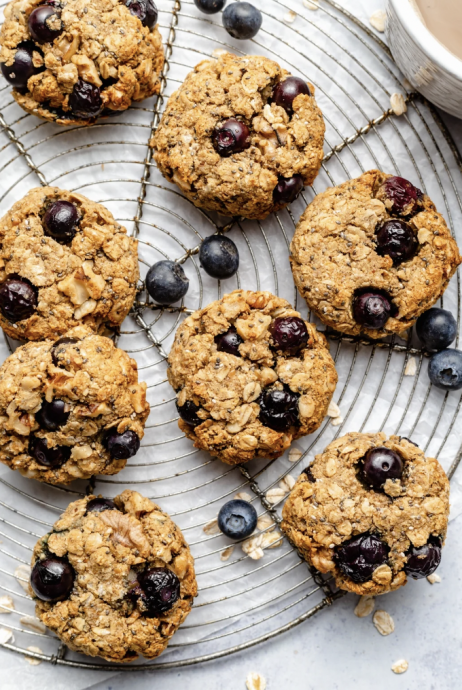 One bowl vegan & gluten free blueberry breakfast cookies that taste just like a blueberry muffin! These healthy blueberry breakfast cookies are naturally sweetened and packed with nutrients from chia, flax, oats, walnuts & more. Freezer-friendly and the perfect breakfast or snack for busy weeks!
These healthy breakfast cookies are naturally gluten free, vegan, refined sugar free and pack in tons of nutrients. OH, and they taste like a chewy oatmeal cookie and your fav blueberry muffin combined. Sounds a little too good to be true, right?
That's exactly what I thought when I first baked these beautiful, chewy cookies. They're bursting with blueberries, hearty oat texture, walnuts, flax, chia, and if you want…puddles of dark chocolate. Yes, I said PUDDLES. You (and the kiddos) will love having cookies for breakfast and you can feel good about everything that's inside. Freeze some for later and enjoy the perfect on-the-go breakfast or snack anywhere!
Ingredients:
2 tablespoons melted coconut oil
1/4 cup coconut sugar
1 medium ripe banana, mashed
1/2 teaspoon vanilla extract
1/2 teaspoon almond extract
1/4 cup flaxseed meal
1/2 cup almond flour
1/2 teaspoon baking soda
1/2 teaspoon cinnamon
1/4 teaspoon salt
1 1/4 cups rolled oats, gluten free if desired
1 tablespoon chia seeds
1/2 cup frozen or fresh blueberries
1/4 cup chopped walnuts