Greek Farro Salad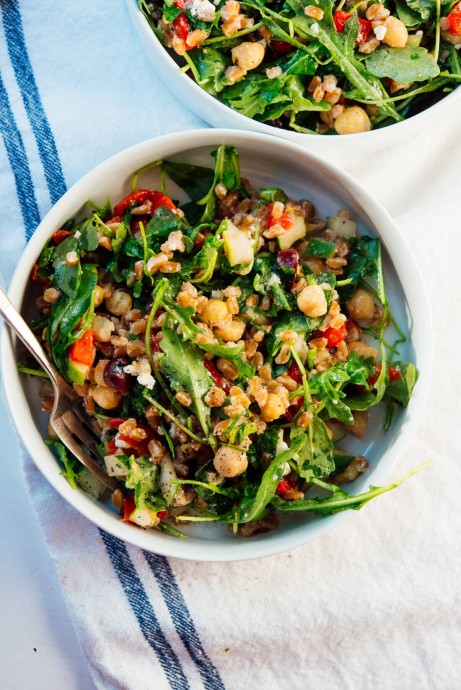 Sometimes recipe concepts sit on my list for months, waiting to be made. Sometimes a craving strikes and a corresponding recipe materializes out of thin air—such is the case with this Greek farro salad. It features bold Mediterranean flavors (lemon, herbs, chickpeas, roasted red peppers and feta), tossed with lots of fresh, peppery arugula and warm, chewy whole grains. Pass me a fork already! The best part? This salad keeps well for two to three days in the fridge, which is always welcome, but especially right now.
With farro, cheese, and leafy greens, this salad really feels like a full meal—aka a meal prepper's dream. It makes the perfect not-so-sad desk lunch. Top it with some sliced grilled chicken or baked salmon and you've got yourself a very hearty, very healthy meal. Not a fan of chickpeas? Use pecans or walnuts instead! Got some extra pears on hand? Use them, too! This salad is a sort of template for a good grain salad. It's got all the elements you need: sweet, salty, soft, crunchy, fatty, fresh. Feel free to make it your own with your preferred mix-ins! There are a lot of great Farro salads out there, but let us tell you why this one's the best!
This fresh and healthy farro salad is full of bold Greek flavors! You'll have plenty of time to prepare the ingredients while the farro cooks. Recipe yields 4 servings.
Ingredients:
1 cup dried farro, rinsed
5 cups lightly packed arugula (if it's not baby arugula, you might want to give it a few chops to break it into smaller pieces)
1 can chickpeas, rinsed and drained (or 1 ½ cups cooked chickpeas)
1 large cucumber (about ¾ pound), seeded and chopped (to yield about 1 ½ cups chopped cucumber)
1 cup chopped roasted red bell pepper
20 kalamata olives, sliced into thin rounds (about ½ cup)
½ cup feta cheese, crumbled
½ cup chopped flat-leaf parsley
¼ teaspoon salt
⅓ cup olive oil
2 to 3 tablespoons fresh lemon juice, to taste
2 teaspoons honey or maple syrup
2 garlic cloves, pressed
½ teaspoon dried oregano
½ teaspoon salt
¼ teaspoon red pepper flakes
Freshly ground black pepper, to taste