Baked Rigatoni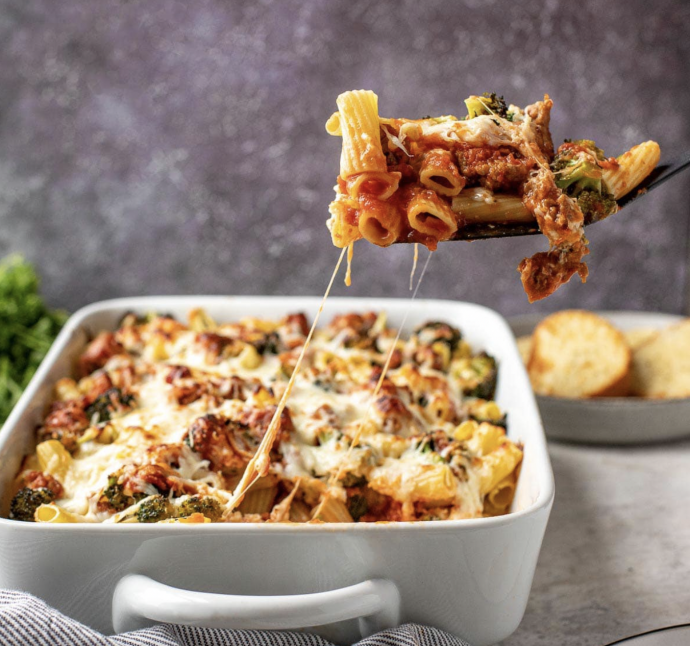 Baked Rigatoni is the perfect filling weeknight meal with pasta, sausage, marinara sauce, and melty cheese all baked in one pan.
If you're looking for an easy meal that everyone is going to love, then you can't go wrong with this classic pasta bake. This Baked Rigatoni recipe is made with pasta and sausage for a filling dish. Delicious marinara sauce adds classic Italian flavor, and you get a dose of vegetables by mixing broccoli florets in with the baked noodles. Plus, it's a cheese lover's dream with layers of mozzarella, parmesan, and ricotta baked into the layers for the ultimate comfort food.
Baked Rigatoni is perfect for gifting to a loved one on those occasions when you want to help them out. Drop it off to a new mother, a friend who's recently lost a loved one, or a neighbor that had to undergo a surgery. You can even assemble it in a disposable foil baking dish before baking, and leave instructions for them to heat and serve. It is an easy way to offer support and lighten someone's load, and nothing is more comforting than a hot home cooked meal.
Ingredients:
1 pound rigatoni pasta
1 tablespoon olive oil
1 pound Italian sausage
3 cloves garlic , minced
1 teaspoon dried basil
1 teaspoon dried oregano
3 cups broccoli florets
1 cup beef broth
4 cups Marinara Sauce
1 cup Parmesan cheese , shredded
2 cups mozzarella cheese , shredded
1 cup ricotta cheese