Vegan Pasta Primavera with Creamy Garlic Cashew Sauce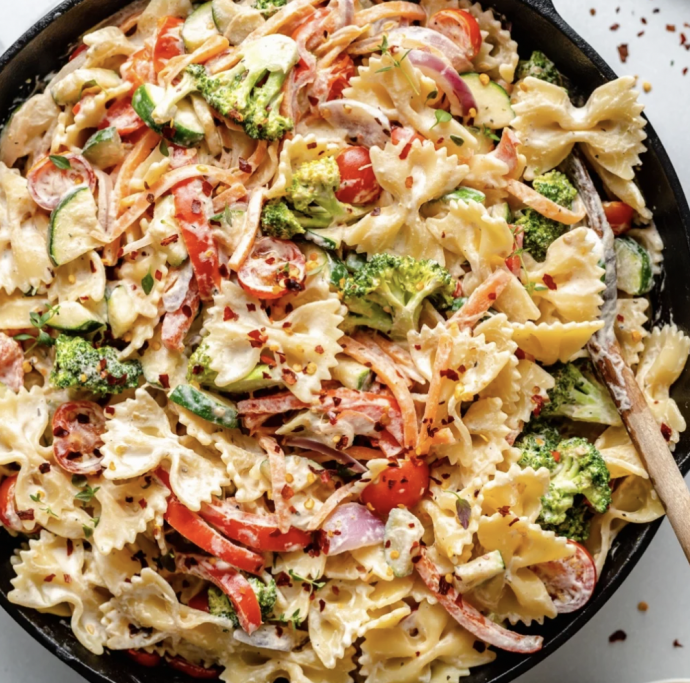 Delicious vegan pasta primavera packed with tender vegetables and tossed in a creamy garlic cashew sauce. This easy vegan pasta primavera recipe has wonderful flavors and plenty of protein and healthy fats for a comforting plant-based meal the whole family will love!
This plant-based take on traditional pasta primavera is so delicious that it deserved a little re-share. This pasta is absolutely stacked with fresh veggies and I AM OBSESSED. The cashew garlic cream sauce is so simple yet incredibly flavorful. I hope you love it!
Ingredients:
12 ounces penne pasta (or sub any kind of pasta you'd like, including gluten free)
2 tablespoons olive oil
1/2 medium red onion, sliced lengthwise
1 large carrot, peeled and cut into matchsticks
1 medium red bell pepper, cut into thin strips
2 cups small broccoli florets
1 ½ cups cherry tomatoes, halved
2 medium zucchini, sliced and quartered OR cut into thin strips
1/2 teaspoon italian seasoning
For the sauce:
¾ cup raw cashews
½ cup water
2 tablespoons fresh lemon juice
2 cloves garlic
1 teaspoon salt
1/4 teaspoon onion powder
Freshly ground black pepper
For serving:
Red pepper flakes
Extra salt and black pepper, if desired
Garlic costini/garlic bread