Pumpkin Brownies – Fudgy Brownie with a Layer of Pumpkin Pie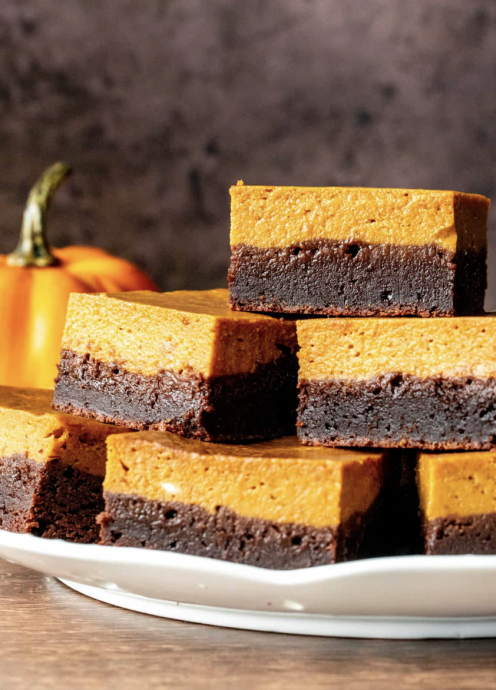 Fudgy brownie and pumpkin pie combine for this delicious fall treat. A layer of rich chocolate brownie on the bottom pairs perfectly with a creamy pumpkin pie layer on top. Decadent and a little different – add these pumpkin brownies to your fall baking!
If you ask me my favorite dessert, hands down, I choose a brownie any day of the week. And these pumpkin brownies are the perfect way to turn fudgy, gooey brownies into the ultimate fall dessert. The bottom brownie layer is rich and fudgy. It's the type of brownie that texture that almost tastes like you're biting into a piece of fudge because it's so dense. Then the pumpkin pie layer is creamy and perfectly spiced. The dark chocolate flavor of the brownie and warm spices of the pumpkin pie layer pair together perfectly for a dessert that's not too sweet, but incredibly decadent.
Trust me – if you've never tried pumpkin and chocolate together before, you need to try these pumpkin brownies.
Ingredients:
Brownie Layer
½ cup unsalted butter cut into about 8 pieces
4 ounces dark chocolate finely chopped
1 cup granulated sugar
2 large eggs whisked
½ cup all-purpose flour
2 tablespoons cocoa powder
¼ teaspoon salt
Pumpkin Pie Layer
1 cup pumpkin puree NOT the entire can
1 cup evaporated milk NOT the entire can
1 large egg
1 teaspoon vanilla extract
½ cup brown sguar
1 teaspoon cinnamon
¼ teaspoon nutmeg
⅛ teaspoon ginger powder
⅛ teaspoon ground coves
1 tablespoon cornstarch AKA cornflour