Baked Orange Chicken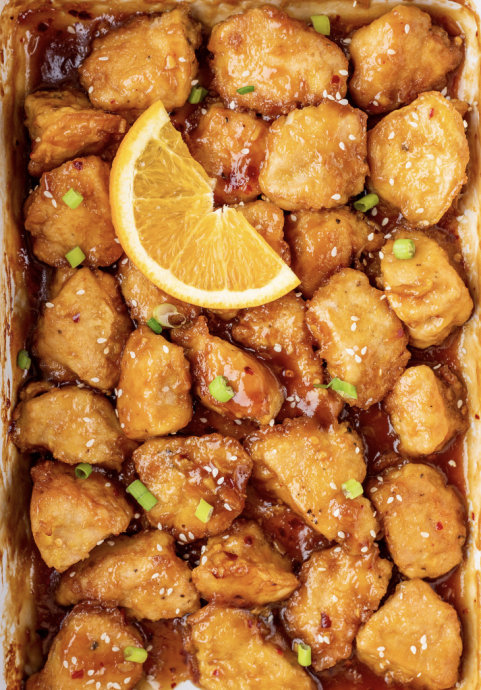 Baked Orange Chicken is a quick and easy weeknight dinner! Ready in just one hour of time and loaded with flavor! Every bite has moist chicken paired perfectly with a lightly sweetened orange glaze.
What I love about this baked chicken recipe is its simple ingredients with HUGE flavors. The orange zest paired with the red chili flakes adds a subtle sweet heat as well.
Since I'm always looking for ways to eat healthier and fuel my body, pairing this baked chicken dish with cooked broccoli totally fits the bill.
The following steps are simple and easy and will have you enjoying your perfectly baked chicken in no time at all!
Start by preheating the oven to 350 degrees. Make sure to grease a 9X13 baking pan.
In a mixing bowl, combine the chicken pieces and salt and pepper. Coat the chicken with cornstarch and then dip it into the egg mixture. Repeat the process with all the chicken pieces. Add the oil to a pan and heat. Once hot, add the coated chicken and cook for 4-5 minutes.
Ingredients:
For the chicken:
1 pound chicken breast, cut into bite-sized pieces
1/2 teaspoon ground pepper
1/2 teaspoon salt
1 cup
2 eggs, beaten
3 tablespoons oil
For the Orange Sauce:
1/2 cup brown sugar
1/2 cup orange juice
2 tablespoons rice vinegar
1 tablespoon soy sauce
1 teaspoon garlic, finely chopped
1 teaspoon red chili flakes
1 teaspon orange zest
1 teaspoon
1 teaspoon salt
2 tablespoons green onion
1/2 cup cooked broccoli