Cream of Mushroom Soup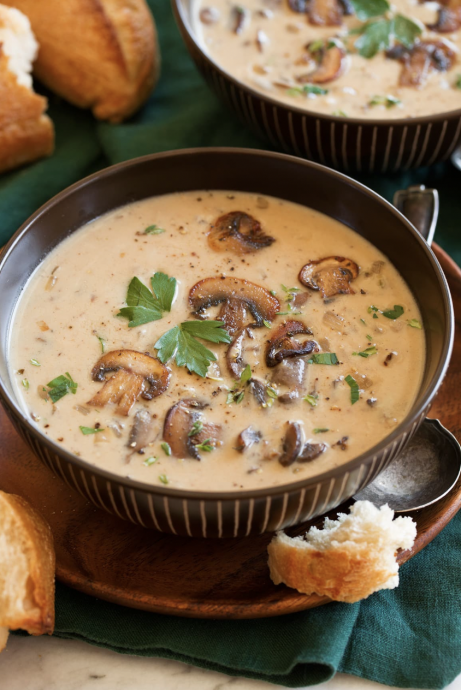 Homemade Cream of Mushroom Soup – It's a rich and flavorful soup made with sauteed mushrooms and onions, bright herbs, and a creamy broth. It's the ultimate mushroom soup recipe!
So what is the secret to perfect creamy mushroom soup? Browning the mushrooms first. In my opinion it's the only way to make mushroom soup.
It's key to building up that golden brown, rich depth flavor. It also gives the soup a warmer more appealing color as well, rather than being a unappetizing dull grey. We eat with our eyes first after all.
While yes it does take 30 minutes of sautéing and makes the process go slower it's easily worth the effort. Trust me the patience pays of in the end result as it becomes a golden soup with perfectly tender mushrooms.
Ingredients:
6 Tbsp unsalted butter, cut into 1-Tbsp pieces, divided
2 lbs baby bella mushrooms, sliced (aka cremini)
Salt and black pepper
2 1/2 cups chopped yellow onions
1 1/2 Tbsp minced garlic
1/3 cup all-purpose flour
2/3 cup dry white wine, such as Sauvignon Blanc
3 (14.5 oz) cans low-sodium chicken broth
1 parmesan rind (about 3 to 4 inches long)
2 tsp fresh thyme leaves
1 1/2 Tbsp cornstarch well blended with 2 Tbsp water (optional, for more thickening)
3/4 cup heavy cream
2 tsp fresh lemon juice
Optional Garnishes
Grated parmesan, sautéed mushrooms, chopped fresh parsley