Baked Chicken Parm Sliders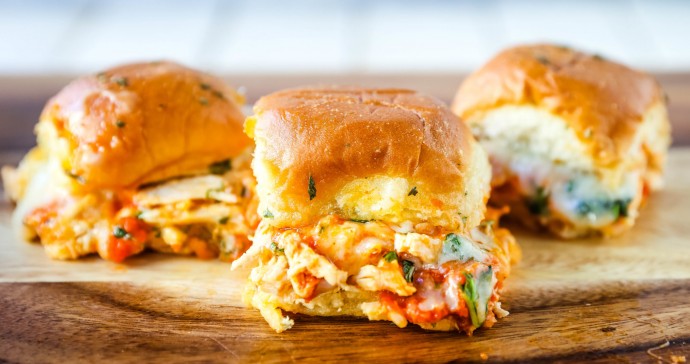 Chicken topped with a fresh marinara sauce topped with fresh mozzarella cheese and baked on Hawaiian sweet rolls and slathered with garlic butter.If you have ever tried the popular recipe for Baked Ham and Cheese Sliders you know how savory and melt-in-your-mouth these sandwiches are. Instead of using ham and cheese, we swapped out chicken and marinara sauce. They become the perfect Italian Chicken sliders!
These Baked Chicken Parmesan Sliders are made with rotisserie chicken, marinara sauce, fresh mozzarella, fresh basil, all on top of Hawaiian sweet rolls, and topped with a garlic parmesan butter. They are baked until golden for a warm Italian sandwich. The garlic butter is so insanely delicious and envelops the rolls so they have a buttery crispiness.
These Chicken Parm Sliders are possibly the perfect party food! A delicious chicken appetizer or dinner recipe that's amazing for feeding a crowd. This recipe makes a huge tray of sliders, so you can absolutely cut the recipe in half to feed a smaller crowd! These Italian chicken sliders taste like chicken parmesan on a bun. They are ready in about 20 minutes and are a perfect family dinner recipe!
Ingredients:
12 Sweet Hawaiian Rolls
3 cups Shredded Rotisserie Chicken
3/4 cup Marinara Sauce
8 ounce Fresh Mozzarella (grated)
2 Tablespoons to 1/4 cup Fresh Basil (chopped)
Garlic Butter:
1/2 cup Butter
3 Garlic Cloves (minced) or 1/2 teaspoon Garlic Powder
1 teaspoon Dried Parsley
2 Tablespoons Parmesan Cheese