Mushroom Barley Soup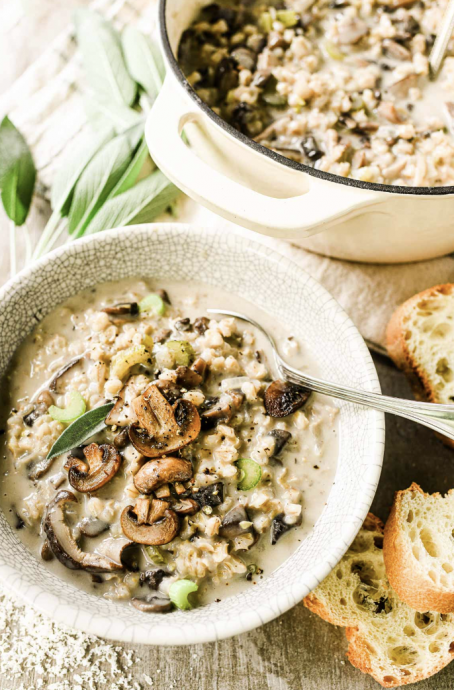 Mushroom barley soup is thick and creamy and makes a satisfying meal with crusty bread. This classic Jewish deli soup is hearty and delicious!
The barley can be cooked a day or two ahead if you like. Extra cooked barley can be used to make delicious grain salads, just sub in the barley for farro or wheatberries.
The flavors in creamy soups like mushroom barley and my wild rice soup get even better overnight. The issue with this one is that it will thicken considerably due to the barley. You will need to thin it down as you reheat it, or enjoy it with a fork!
Ingredients:
1 ounce dried mushrooms
1 cup pearl barley, rinsed
salt and fresh cracked black pepper
1 lb cremini mushrooms
4 Tbsp butter
2 large shallots, minced, about a cup.
1 cup finely sliced inner celery stalks (and leaves)
1/4 cup dry sherry
1/4 cup flour
48 ounces chicken stock or vegetable broth
a sprig of fresh sage leaves
1 tsp Worcestershire sauce
1 cup half and half or heavy cream (evaporated milk or cashew cream can also be used.)
garnish
grated Parmesan cheese