One Pan Lightened Up Hamburger Helper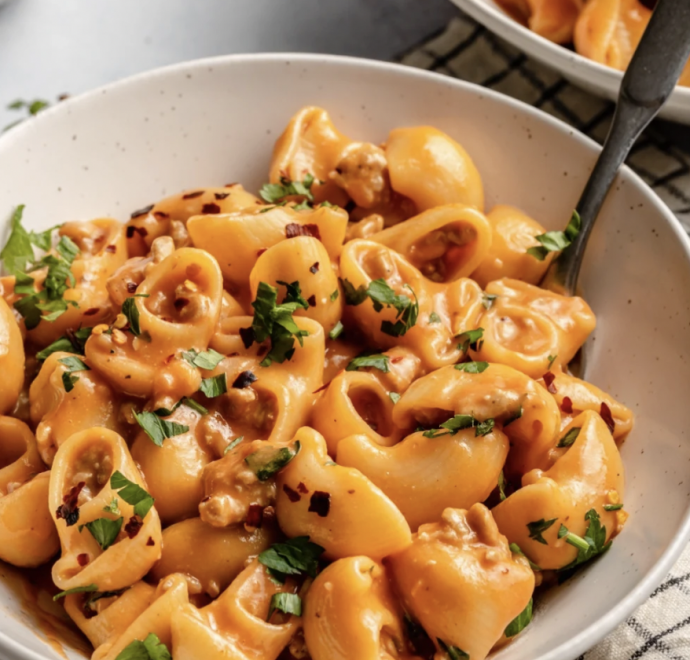 The creamiest one pan lightened up hamburger helper made with simple ingredients for a nostalgic, comforting dinner the whole family will love. This healthy hamburger helper takes just 30 minutes to make and is packed with flavorful and protein! Options to add your fav veggies or spice it up if you'd like.
This healthy hamburger helper is just as easy to make as it is delicious. You'll literally cook everything right in one pan with a handful of pantry staples and the result tastes 100x better than the boxed stuff you grew up on. I've included tons of ways to customize it with different meat options, veggie add-ins, and even a hint of spice if the kiddos aren't involved.
Ingredients:
1 tablespoon olive oil
1 medium yellow onion, diced
3 cloves garlic, minced
1 pound lean ground turkey (93% is good)
Freshly ground salt and pepper, to taste
3 cups low sodium chicken broth
1 cup milk of choice
8 ounces tomato sauce (1 cup)
½ teaspoon paprika
½ teaspoon dried oregano
10 ounces pipe rigate pasta
1 cup shredded sharp cheddar cheese (we use Cabot)
Freshly ground salt and pepper, to taste
For garnish:
Freshly chopped parsley