Hearty Roasted Butternut Squash & Apple Salad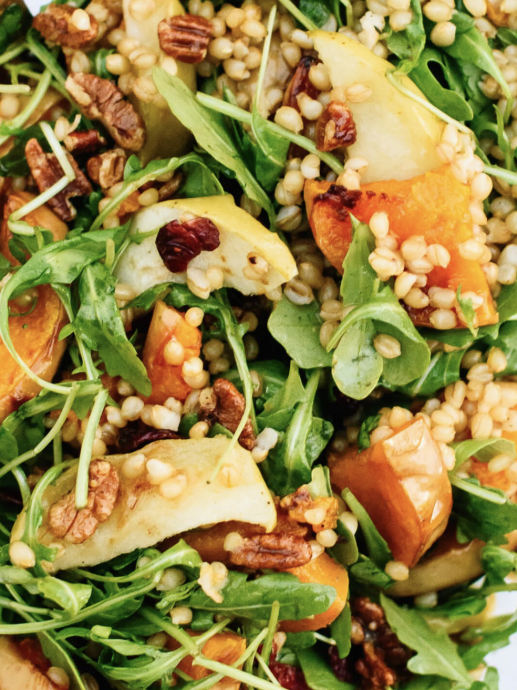 Can you tell that I just barely had enough light left to photograph this salad? Imagine me in the backyard, trying to stand very still (like, don't-breathe still) over a plate of salad while Cookie chased squirrels away. Click-click-click-click-click-click-click-click, and after all that, I only got a few photos that weren't blurry.
Granted, I had all weekend to make this salad, but I just had to wait until mid-afternoon on Sunday to get to work on them. I miss long summer days.
Ingredients:
1 cup

hard white wheat berries

, rinsed (or your whole grain of choice—farro would be a great substitute; gluten-free options include quinoa or sorghum)

1 Granny smith apple, cored and sliced into ½" wide wedges
One small (2 to 2 ½ pounds) butternut squash
1 tablespoon olive oil
¼ teaspoon salt, plus more for sprinkling
5 ounces baby arugula (about 5 cups, packed)
⅓ cup dried cranberries
Cinnamon-maple pecans
½ cup pecan pieces (or roughly chopped whole pecans)
2 teaspoons maple syrup
Pinch ground cinnamon
Pinch salt
¼ cup olive oil
2 tablespoons lemon juice
1 teaspoon finely grated fresh ginger
1 teaspoon maple syrup
½ teaspoon Dijon mustard
¼ teaspoon salt