Salmon Cobb Salad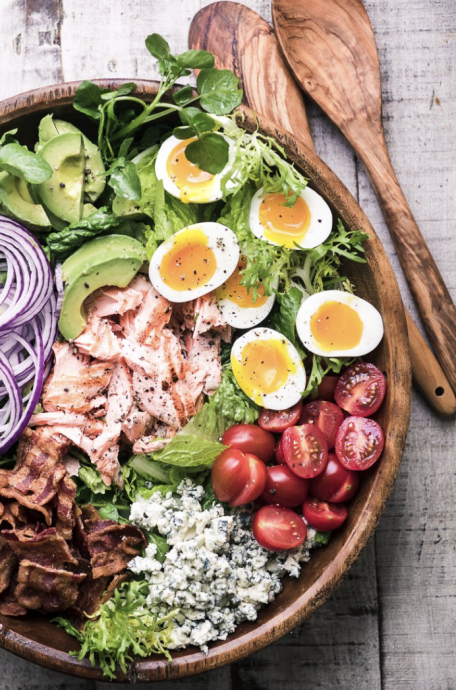 Salmon Cobb Salad is a twist on a satisfying and delicious classic main course salad that proves that salad can complete with tacos or pizza any night of the week!
WHAT'S THE DIFFERENCE BETWEEN A CHEF AND A COBB SALAD?
They're both main course salads topped with meats and cheese, but the cobb specifically features the above mix of lettuces, avocado, and tomato. A chef salad will sometimes contain other meats like ham, turkey and roast beef, and is traditionally served with thousand island dressing.
Ingredients:
4 handfuls of chopped romaine lettuce
2 handfuls endive, chopped
2 handfuls watercress, trimmed
1/2 lb cooked salmon, broken into large flakes
6 -8 slices crisp bacon, crumbled or broken
4 boiled eggs, sliced in half
4 1/8 inch thin slices of red onion
1/2 cup crumbled blue cheese
10 cherry tomatoes, or strawberry tomatoes, cut in half
1 avocado, sliced (squeeze lemon juice over all the exposed areas to prevent browning)
VINAIGRETTE (FEEL FREE TO DOUBLE THE RECIPE FOR EXTRA DRESSING)
4 Tbsp extra virgin olive oil
2 Tbsp balsamic vinegar
1 tsp Dijon mustard