Vegetarian Corn Chowder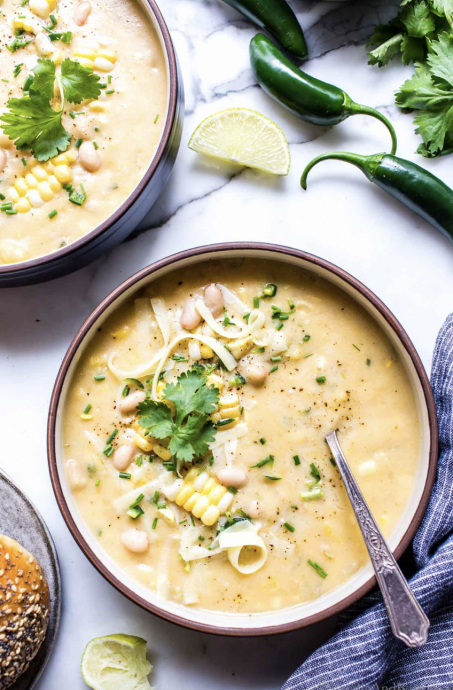 An easy to make chunky Veggie Corn Chowder recipe chock full of corn, potatoes, and beans with white cheddar and optional jalapeño peppers. This vegetarian corn chowder comes together in about 30 minutes making it a cozy weeknight favorite! This recipe is vegetarian and gluten free.
Between August and October, in-season produce is so abundant in its diversity. It's the only time of year you can buy fresh sweet corn, winter squash, sweet peppers, jalapeños and late season tomatoes in one market haul. There's a chill in the air too, so that means soup season is here!
I made this delicious vegetarian potato corn chowder recipe on a whim, after scanning the contents of the fridge and pantry. What a delicious discovery after following a craving! We love the results. It's easy to make, freezer friendly and pairs perfectly with a big salad and crusty bread.
Ingredients:
2 teaspoons Vegetable Oil I use olive oil
1 Cup (125 grams) Yellow Onion medium dice, about 1/2 a large onion
3 1/2 Cups (430 grams) Corn Kernels* fresh, about three ears of fresh corn or thawed from frozen
2 teaspoons Minced Garlic about 2 small cloves
3 – 4 tablespoons Fresh Minced Jalapeños** optional, adjust to taste, from about two medium jalapeños
1/2 teaspoon Smoked Paprika
1 1/4 teaspoon fine Sea Salt
3 Cups (485 grams) Yukon Gold Potatoes diced to 1/2inch, skin on, from about 4 small potatoes
1 1/4 Cup (295 grams) Vegetable Broth
3 Cups (655 grams) Water
1 Cup (250 grams) Milk plant or dairy (whole), I use homemade cashew milk
1 (425 grams) Can of Navy Beans rinsed and drained
3/4 C (80 grams) Grated White Sharp Cheddar Cheese packed
1/2 Fresh Lime
Garnish With (optional):
Freshly ground black pepper, chives, fresh jalapeños, cilantro and/or more cheese.