Cowboy Beans With Ground Beef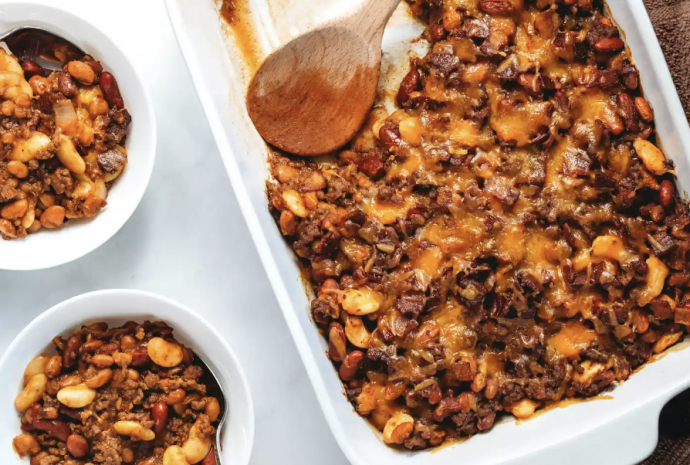 Cowboy beans is a hearty Southwestern dish consisting of beans and ground beef in a sweet and tangy sauce. This recipe is made with four different kinds of beans, along with bacon, ground beef, bottled barbecue sauce, and plenty of flavoring, making the dish even more complex and filling. Cowboy beans are perfect alongside barbecue at a cookout, when tailgating, or as the main dish for an everyday family meal.
You can cook these cowboy beans in the oven or the slow cooker. Finish them off with some shredded cheddar cheese, if you like, and serve with cornbread or crusty rolls and a green salad or roasted Brussels sprouts.
Ingredients:
1/2 pound bacon, diced
1 pound lean ground beef
1/2 cup coarsely chopped onion
1/4 cup ketchup
1/4 cup barbecue sauce
1/4 cup granulated sugar
1/4 cup packed brown sugar
2 tablespoons molasses
1 tablespoon chili powder
1 teaspoon kosher salt
1 teaspoon freshly ground black pepper
2 tablespoons mustard
1 (16-ounce) can baked beans
1 (16-ounce) can butter beans, drained
1 (16-ounce) can kidney beans, drained
1 (16-ounce) can pinto beans, drained
1 cup shredded cheddar cheese, optional