One-Skillet Spinach Artichoke Chicken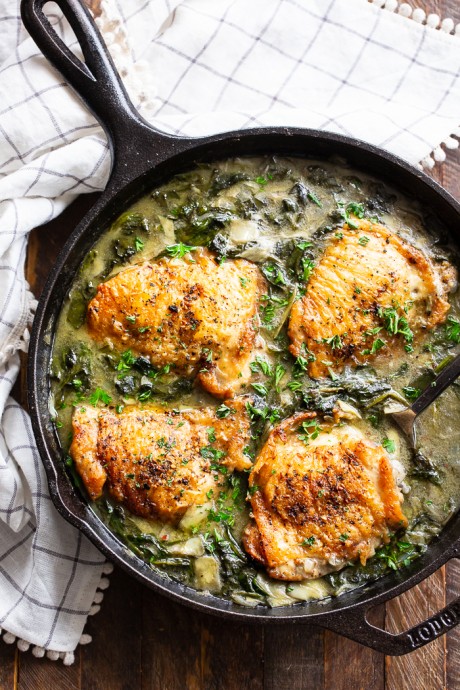 This one-skillet spinach artichoke chicken is crispy, creamy, and packed with flavor! It's Paleo, Whole30 compliant, keto friendly, dairy free, and made all in one skillet. Great served alone or over cauliflower rice! I'm a fan of spinach artichoke anything, and this One-Skillet Spinach Artichoke Chicken is one of my favorite recipes. It's hard to imagine something involving spinach and artichoke that wouldn't sound appealing at all. Aside from desserts of course. That would just be terrible.
Of course, spinach artichoke is an amazing flavor combination on its own and in dip form, but I especially love it with chicken. I even have a creamy chicken spinach artichoke dip that's one of my favorite dips ever! But, I've also been meaning to try out a One-Skillet Spinach Artichoke Chicken. It's taken me way too long to finally execute it!
When it comes to completing a successful, and enjoyable Whole30, leftovers are basically the rule. The more tasty leftovers we have available make life easier in general, in my opinion! I hope you're ready for all the things you love about Spinach Artichoke in this healthy, Whole30 One-Skillet Chicken dinner! Grab your favorite skillet and let's get going!
Ingredients:
6 chicken thighs bone-in, skin-on
Sea salt and and pepper to season chicken
1 tsp lemon garlic seasoning or garlic powder
2 Tbsp ghee
8 oz fresh spinach roughly chopped
14 oz can artichoke hearts roughly chopped
1/2 med onion chopped (or 1 small)
4 cloves garlic minced
3/4 cup chicken bone broth
1 Tbsp fresh lemon juice
pinch crushed red pepper optional
Sea salt and pepper to season veggies
1/4 cup coconut milk full fat, blended prior to adding
2 tsp spicy brown mustard
2 tsp tapioca flour or arrowroot