Chai Cupcakes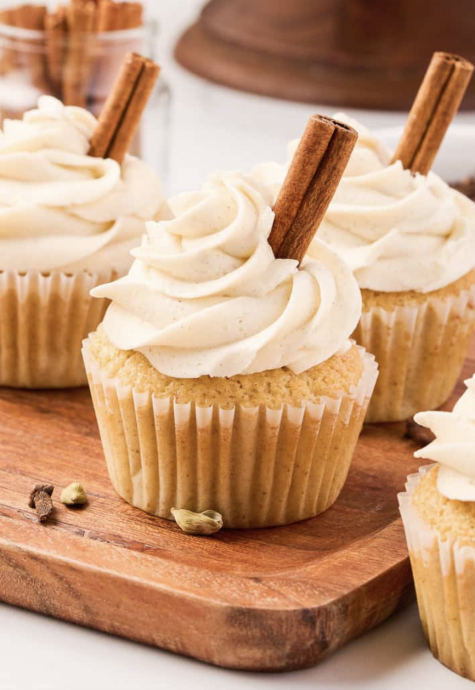 Chai cupcakes are the perfect fall dessert. They are warm and spicy, with just the right amount of sweetness. They are made with a homemade chai spice blend and topped with a fluffy buttercream frosting.
Fall is my favorite season, which always means baking fall-inspired things in my kitchen for my family, like chai cupcakes with warm spices like cinnamon, cardamom, cloves, and ginger.
I can't help but love watching the leaves turn color, and the weather get cooler. It is the best time to start baking!
Ingredients:
½ teaspoon ground ginger
½ teaspoon ground cinnamon
½ teaspoon ground cardamom
½ teaspoon ground cloves
1/8 teaspoon ground pepper
½ cup (1 stick) unsalted butter, softened
1 cup granulated sugar
1 large egg, at room temperature
½ teaspoon pure vanilla extract
1 ½ cups cake flour
1 ½ teaspoon baking powder
½ teaspoon salt
2/3 cup milk
Frosting:
½ cup (1 stick) unsalted butter, softened
3 cups powdered sugar
¾ teaspoon pure vanilla extract
2-3 tablespoons heavy cream