Apple Cinnamon Pancakes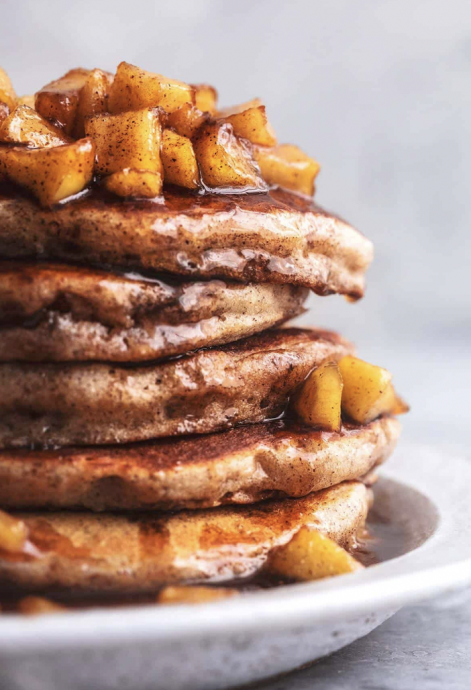 Change up the same old pancake and make these Apple Cinnamon Pancakes! Fluffy cinnamon pancakes with an ooey, gooey apple topping make the most perfect cozy breakfast.
When apple season arrives, it's somewhat bittersweet, isn't it? Even though it usually means swimsuits are getting packed away and we're gonna be busting out the ear warmers before ya know it, I end up pretty happy about the change of seasons. Sure, I'm always sad to see summer go, but the fact that all things apple, cinnamon, and pumpkin are on the way certainly makes the transition a little more bearable.
These pancakes are perfectly fluffy and soft and good enough on their own but that's nothing compared to how wonderful they are when you've piled on that apple topping. I mean, look at all of that apple goodness! Mmmmm…time to dig in!
Ingredients:
¾ cup milk
1 ½ tablespoons vinegar
1 cup flour
3 tablespoons sugar
1 teaspoon cinnamon - (if you really love cinnamon you can add another ½ teaspoon)
1 teaspoon baking powder
½ teaspoon baking soda
½ teaspoon salt
1 egg
2 tablespoons oil
Apple Topping
2 tablespoons butter
2 apples - peeled, cored, and diced
2 tablespoons brown sugar
½ teaspoon cinnamon
⅓ cup maple syrup