Cookies & Cream Brownie Pumpkin Cheesecake Bars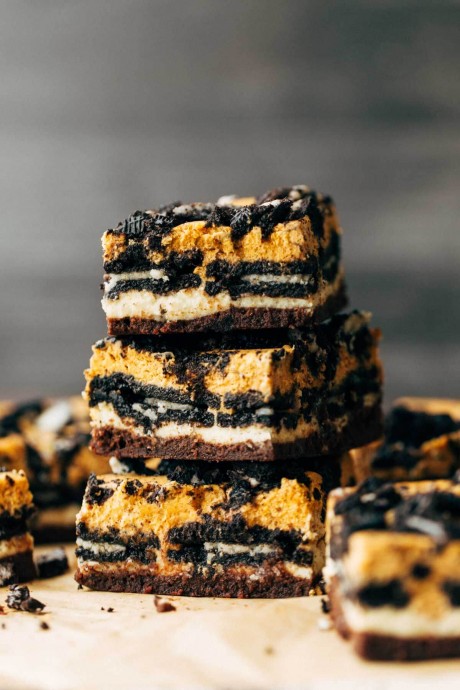 If you're looking for the BEST pumpkin dessert, your search ends here. These are the ultimate pumpkin cheesecake bars baked with a brownie crust, vanilla cheesecake, Oreo cookies, and pumpkin cheesecake. It's rich, creamy, and surprisingly easy to make.
These pumpkin cheesecake bars have four different layers: brownie, vanilla cheesecake, oreos, and pumpkin cheesecake. But really, these bars are actually very easy to make! The trickiest part about this recipe is the cheesecake, although when I say tricky I just mean it requires a tiny bit more work than the rest. The Oreo cookies will become soft and tender as they'll absorb the moisture from the cheesecake layers. They'll have a slightly different texture, but overall the bars have a really silky and creamy finish.
These bars must chill for at least 2 hours before slicing. This allows the center to set up so that each slice shows those distinct layers. But, be careful not to chill the bars inside the pan overnight. The moisture from the bars will sink into the parchment paper, making it too soft to lift the bars out and slice. This will just make it harder to get the bars out. So, after the bars are firm and chilled, remove the bars from the pan, slice, and then store in the refrigerator in an air tight container.
Try these brownie crusted cheesecake bars baked with layers of vanilla cheesecake, Oreos, and pumpkin cheesecake. Perfect winter treat!
Ingredients:
5 tbsp unsalted butter
2 oz dark chocolate, chopped
1/2 cup (100g) granulated sugar
1 large egg
1 tsp vanilla extract
1/4 tsp salt
1/4 cup (34g) all purpose flour
2 tbsp cocoa powder
16 oz cream cheese, room temp
3/4 cup (150g) granulated sugar
1/4 tsp salt
2 large eggs, room temp
2 tsp vanilla extract
1/2 cup (120g) sour cream, room temp
3/4 cup (190g) pumpkin puree
1 1/2 tsp pumpkin pie spice
1 tsp cinnamon
24 chocolate sandwich cookies