Cranberry Chicken Wings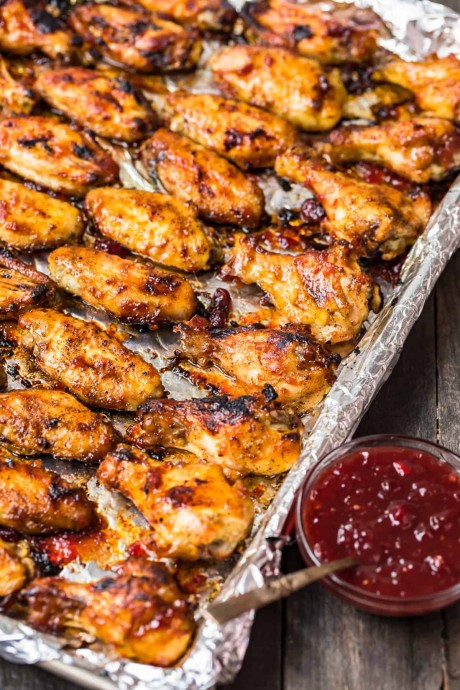 Get in the festive mood with these finger licking cranberry chicken wings! These baked wings are a wonderful mix of sweet and salty and they make a great addition to your holiday menus! If you are looking for a crowd pleasing appetizer to serve up this Christmas, you cannot go wrong with these delicious cranberry chicken wings.
Super easy to make and the flavors are out of this world! I promise you, these will be a hit!
You'll love Cranberry Chicken Wings! They are easy: The wings are baked on a sheet pan so clean up is a breeze and this recipe requires very little prep. Perfect for a crowd: This recipe makes 24 wings and the recipe is easily halved and doubled. Great for any occasion: These wings aren't just for Christmas! They are a great appetizer all year round and are a great choice for any occasion! Wings are best served as soon as they are made, but you can make the sauce and marinade the wings for up to 4 hours before you plan to serve them.
If you do have leftovers, you can keep them in the fridge for up to 4 days. Reheat them at 350f for 10 to 20 minutes until heated through.
Ingredients:
5 pounds chicken wings
For the Sauce
14 ounces canned jellied cranberry sauce
2 tablespoons Ginger Paste or grated fresh ginger
¼ cup low-sodium soy sauce
3 tablespoons dark brown sugar
1 tablespoon Dijon mustard
½ teaspoon crushed red pepper flakes
3 tablespoons cider vinegar
½ teaspoon kosher salt
¼ teaspoon freshly ground black pepper
Zest and juice from 1 large orange
Juice from 1 medium lime divided