Iced Oatmeal Cookies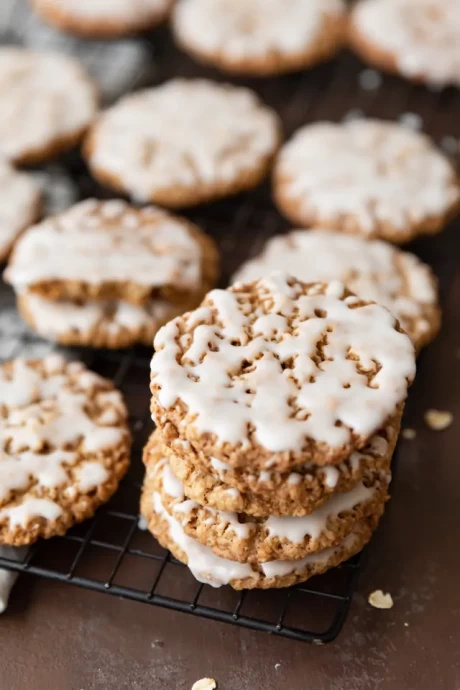 Iced oatmeal cookies are an old-fashioned recipe with soft centers and crisp edges. Each cookie is infused with molasses, cinnamon, and nutmeg then topped with a sweet glaze. There's just something so comforting about biting into a cookie that takes you back to days of baking cookies with grandma. Why This Iced Oatmeal Cookies Recipe Works: The cookie itself isn't overly sweet so it balances well with the sweet icing. The spices are warm and cozy just like an oatmeal cookie should be.
Most oatmeal cookie recipes call for similar ingredients. I'm sticking with those staple ingredients but adjusting the ratios so the cookies have the perfect texture. Learn some tips for making the best iced oatmeal cookies! Use quality ingredients! Properly measure the flour. Don't scoop the flour directly out of the bag with the measuring cup. Since flour compacts, this method will add too much flour to the recipe. Use the right oats. Make sure you are using regular rolled oats and not the quick cook kind. These cookies are so delicious, kids love them! Perfect with a cup of coffee or tea in the morning!
Ingredients:
For The Cookies
¾ cup (170 g) unsalted butter, softened
¾ cup (150 g) granulated sugar
¼ cup (55 g) light brown sugar
1 large egg, room temperature
1 large egg yolk, room temperature
1 tablespoon unsulphured molasses - SEE NOTE 1
2 teaspoons vanilla extract
1 cup (130 g) Bob's Red Mill Organic All-Purpose Flour - SEE NOTE 2
¾ teaspoon baking powder
½ teaspoon baking soda
1 ½ teaspoons ground cinnamon
½ teaspoon ground nutmeg
½ teaspoon salt
2 ½ cups (203 g) Bob's Red Mill Organic Regular Rolled Oats
For The Icing
2 cup (240 g) confectioners' sugar
3-5 tablespoons whole milk
½ teaspoon vanilla extract