Dark Chocolate Pecan Bars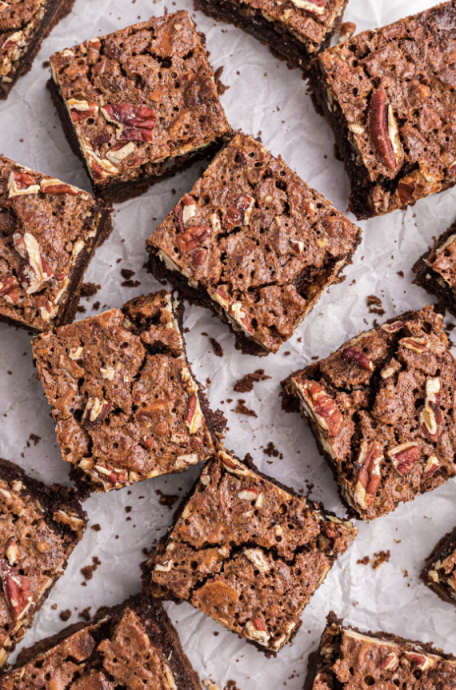 Rich and fudgy Chocolate Pecan Bars with a chocolate shortbread crust. These dessert bars are a great make-ahead dessert for potlucks, parties, and holiday celebrations.
f there's a crowd-pleasing dessert that can carry us from now until the end of the holiday season, it's these chocolate pecan bars. They fit perfectly in a Thanksgiving dessert spread, are an easy holiday potluck treat to share, or make a batch for the cookie platters in December. They are what I consider a go-to dessert bar.
I love them because they're fudgy like brownies, but with a shortbread crust that makes them a little more fancy. Dark chocolate gives them an uber-rich flavor and the chopped pecans add a nice crunchy texture.
Plus, you make them ahead so they're ready to go when you need them. See, I told you – there's a lot to love in these chocolatey-rich dessert bars.
Ingredients:
For the Crust
1 3/4 cup all-purpose flour
1/4 cup plus 2 tablespoons unsweetened cocoa powder
1/3 cup powdered sugar
3/4 cup butter, softened
For the Filling
6 ounces dark chocolate, chopped
1 1/2 cups light corn syrup
2/3 cup brown sugar
4 eggs
1/4 cup flour
2 cups roughly chopped pecans