Giant grilled cheese with hot honey butter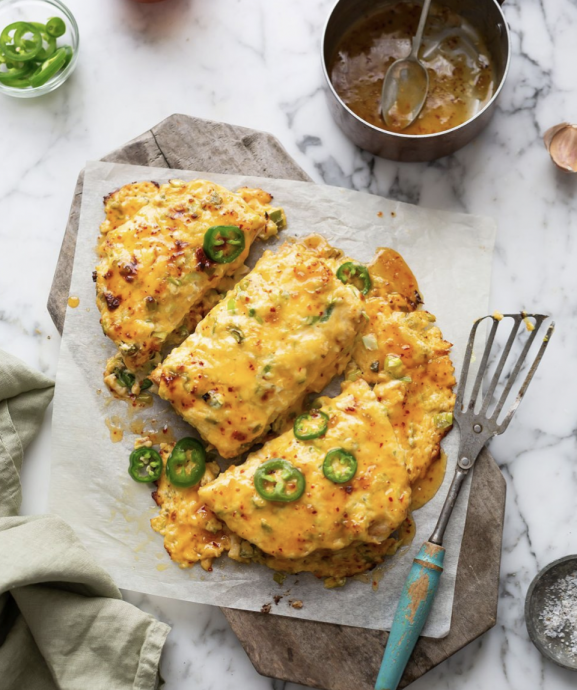 This giant grilled cheese with hot honey butter is a crowd-pleasing snack that you are going to love. The thick cheesy topping bubbles in the oven and gets covered with a spicy hot honey butter dressing that takes it to a new level.
This is a very large and fancy cheese on toast designed to share. Cut it up as a snack or add a salad to make a light lunch. If you don't mind the sweetness, you could add a fried egg to make it a more substantial meal.
The inspiration behind the recipe comes from growing up eating Jucy Lucy's open grilled cheese sandwiches. I loved the one with spring onion. I often miss this healthy fast food chain that always made the best fruit juices.
British food writer Ixta Belfrage did a recipe in her latest book 'Mezcla' which uses honey butter spiced with Urfa chilli and that inspired the topping for this grilled cheese. I have chosen Aleppo-style pepper as I love the mild heat and flavour it delivers.
You could use dried chilli flakes and a hint of smoked paprika if you can't find Aleppo-style pepper or Urfa. A combination of cayenne and smoked paprika could also be nice, just be careful not to add too much.
Either way, cooking honey with butter and chilli until bubbling makes the most glorious topping to put on a grilled cheese sandwich.
Ingredients:
Grilled cheese:
Half a medium loaf of bread such as country loaf or ciabatta
200gms Kerrygold Mature Cheddar cheese, grated
125ml (1/2 cup) sour cream
50gms yoghurt (3 Tbsp)
6 spring onions finely sliced (the white and green parts)
Sliced jalapeno (optional)
Hot honey butter:
40gms salted Kerrygold butter
1 clove garlic, minced
2 heaped Tbsp runny honey
3/4 of a tsp Aleppo pepper (or use dried chilli flakes and paprika)
A good pinch of salt