Roasted Butternut Squash Soup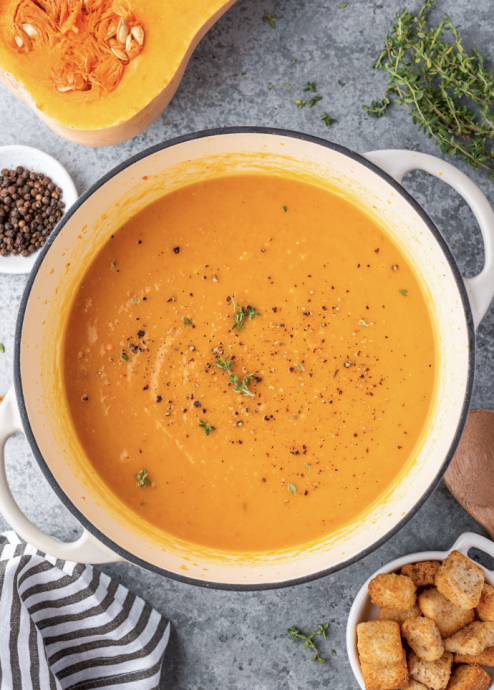 This Delicious Roasted Butternut Squash Soup is creamy and simple to make. Flavored with warm spices and butternut squash, this fall soup recipe is a healthy addition to any diet at just 168 calories per serving!
There's nothing like a bowl full of warm, delicious soup. Once the months start to turn a bit chilly, I love warming up at home with homemade soup. I also think that soup is the perfect base for loading up your body with healthy ingredients as well.
My favorite part of this simple soup recipe is that it's ready in just one hour of time. A few ingredients, a little bit of cook time, and that's really all it takes! This soup makes four servings as well so it's one that you can make and enjoy over and over again!
Ingredients:
1/2 large butternut squash
1 cup carrot , cut into rounds
1/2 large yellow onion , cut into thick slices
3 garlic cloves
1 Tablespoon olive oil
salt , to taste
1/2 teaspoon ground black pepper
1/4 teaspoon cayenne pepper powder
1/8 teaspoon ground nutmeg
2 sprigs fresh thyme
2 Tablespoons butter
2-3 cups chicken broth (adjust to the soup consistency)
Bread croutons , to serve (optional)