Chicken Shawarma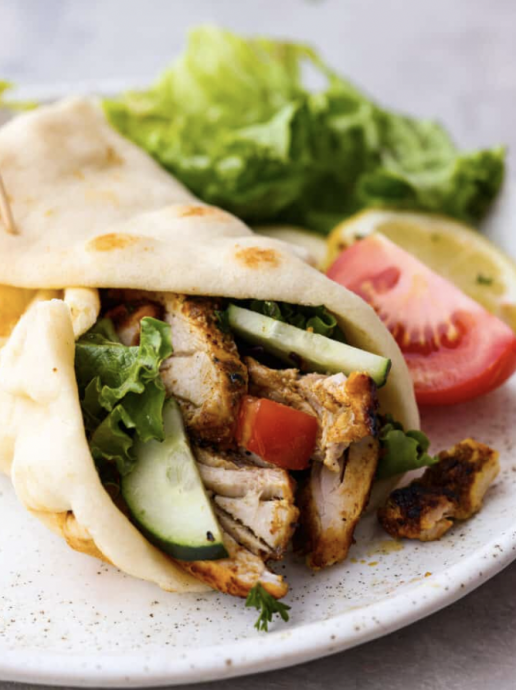 This Middle Eastern chicken shawarma is packed full of flavorful chicken that is seasoned with a delightful array of spices. It makes a great lunch or dinner that everyone will go crazy for!
If you have never had (or heard of) chicken shawarma before, then you are in for a delicious meal! I season this chicken with my delicious shawarma seasoning. The seasoning mixture is filled with garlic, cumin, cinnamon, and a few others that make a delicious flavoring blend. You can use the spice as a rub or a marinade on vegetables or any kind of protein. My favorite way to use it is on chicken!
I blend the seasoning up with lemon juice and oil to make a marinade. I soak my chicken for at least an hour (if you have the time, then soaking it overnight really infuses the flavor into your meat!). Then, I grill the chicken (making this the perfect recipe to kick off summer grilling season!), and I put it in a pita along with some other vegetables. The combination of the cooked chicken mixed in with fresh, crunchy vegetables is heavenly! Make this for lunch or dinner! But whatever you choose, double this recipe so that you can enjoy the leftovers all week long!!
Ingredients:
2 lbs Boneless Skinless Chicken Thighs
2 teaspoons Cumin
2 teaspoons Paprika
1 teaspoon Ground Coriander
1 teaspoon Turmeric
1/2 teaspoon Dried Oregano
1/4 teaspoon Cinnamon
1/4 teaspoon Ground Cardamom
1 teaspoon Salt
1 teaspoon Pepper
1/4 cup Olive Oil
3 Tablespoons Lemon Juice
3 teaspoons Garlic, minced