Simple Healthy Slaw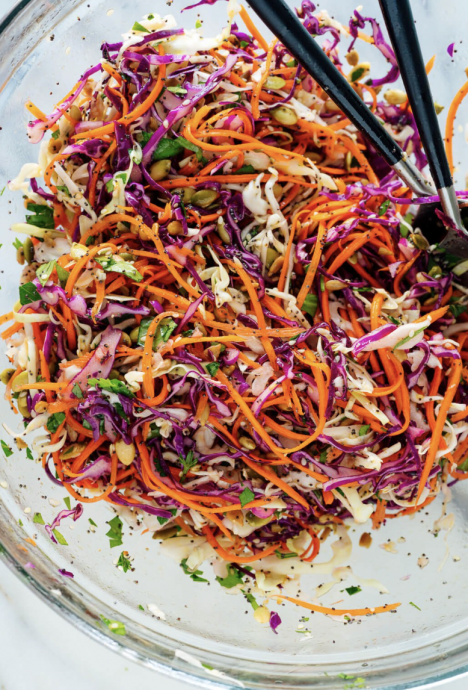 Let's talk about this healthy slaw recipe. It's proof that sometimes, the most humble of ingredients can make for the best recipes.
Take cheap cabbage, with all of its potent antioxidants, and toss it with carrots, the humble root vegetable that is packed with beta carotene. Drizzle in a simple, garlicky lemon dressing (no mayonnaise or vinegar here). For extra texture and savory flavor, add some freshly toasted seeds to the mix. Toasting them makes all the difference.
Ta da! You have a colorful coleslaw that's bursting with fresh flavor and amazing health benefits.
Ingredients:
coleslaw
2 cups finely sliced purple cabbage (one small cabbage will be more than plenty)
2 cups finely sliced green cabbage (one small cabbage will be more than plenty)
2 cups shredded carrots (I used store-bought shredded organic carrots, but you could also grate them on a box grater, in a food processor, or julienne the carrots with a sharp knife)
¼ cup chopped fresh parsley
Up to ¾ cup mixed seeds (I used mostly pepitas—AKA green pumpkin seeds—and sunflower seeds, with some sesame seeds and poppy seeds)
Lemon dressing
¼ cup olive oil
2 to 3 tablespoons lemon juice, to taste
1 clove garlic, pressed or minced
½ teaspoon ground cumin
½ teaspoon salt