Broccoli Cheese Casserole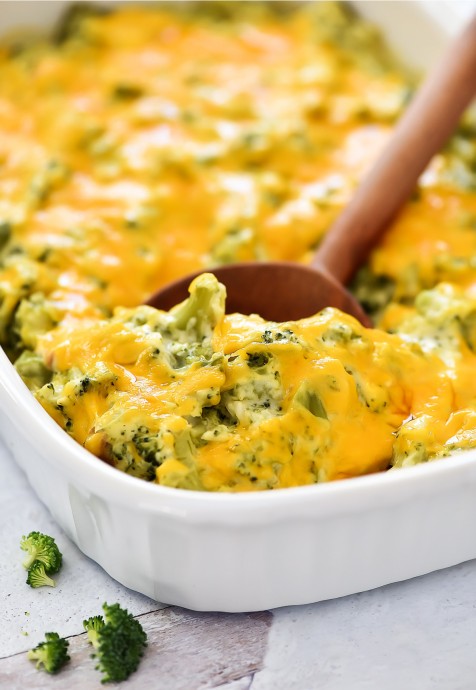 Cheddar cheese, broccoli florets, and homemade cream of chicken soup all come together to create this creamy Broccoli Cheese Casserole. Make it as a side dish for any holiday feast or for a simple weeknight dinner! There's always certain dishes that seem to make appearances year after year on festive menu in many homes. The Broccoli Cheese Casserole is definitely one of them. I mean, how can you resist fresh broccoli florets covered in a creamy mixture of melty cheddar, Greek yogurt, and a homemade condensed chicken soup?
This casserole is so delicious and has comfort written all over it. If you're wanting to really wow your family with this casserole, then you could add a layer of crispy, buttery, and salty crackers over the top. This will add an incredible crunch!
If you're looking to serve this casserole on a weeknight and are in need of something to pair it with I have some great ideas! Chicken Piccata, Crock Pot Turkey and Gravy, or Slow Cooker Honey Glazed Ham are all delicious options that will leave you with a stellar meal that the whole family will adore!
Ingredients:
1 ¼ cups chicken broth
3/4 cup milk, divided (I use 2%)
1/4 cup all purpose flour
1/4 teaspoon onion powder
1/4 teaspoon garlic powder
1/4 teaspoon black pepper
1/2 teaspoon salt
5 cups cooked and chopped broccoli florets
1 cup plain Greek yogurt
1/2 small yellow onion chopped
1 cup freshly grated cheddar cheese (I use mild cheddar)