Roasted Butternut Squash with Goat Cheese & Pomegranates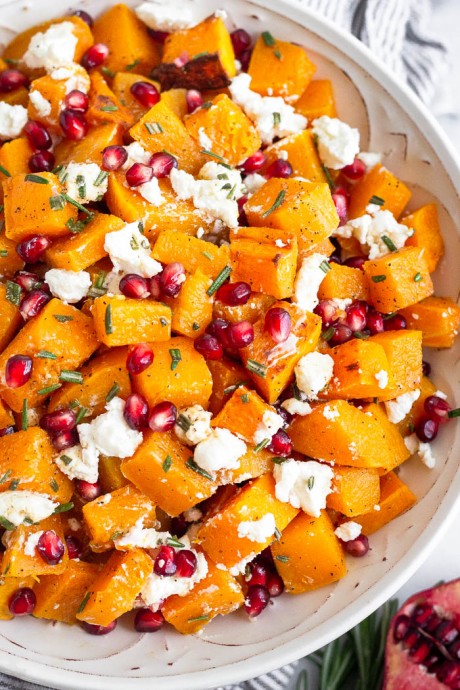 Roasted butternut squash combined with goat cheese, pomegranates, and rosemary makes an absolutely delicious, simple, and flavorful dish. It's sweet and savory, has a little zip from the citrus and balsamic vinegar, and different textures from the goat cheese to the pomegranates. It makes the perfect side dish to just about any meal – turkey, pork, chicken, beef, salmon – and is easy to prepare. To save some time, you can use precut butternut squash and prepackaged pomegranate arils from the grocery store. The best part is, it is so simple to make. Just 7 ingredients to make this flavor-packed roasted butternut squash with goat cheese and pomegranates. Easy to make and an absolutely delicious side dish that goes with any entree, holidays or not!
While this roasted butternut squash is pretty simple and doesn't call for much, there are a couple of substitutions you could do: you could substitute another kind of winter squash (everything except spaghetti squash), pumpkin, or sweet potatoes if you don't have butternut squash. And cheese – any kind of cheese will work. I would suggest a soft cheese like feta or gorgonzola as a good alternative. This dish makes a healthy holiday side dish or is perfect for weeknight meals for fall and winter. Gluten-free and vegetarian.
Ingredients:
10 heaping cups chopped butternut squash
1/2 teaspoon garlic powder
1 tablespoon coconut oil (melted)
1/2 heaping cup pomegranate arils
2 ounces goat cheese, crumbled (about 1/2 cup)
salt and pepper, to taste
2 tablespoons lemon juice (about 1 lemon)
1 tablespoon balsamic vinegar
2 tablespoons fresh rosemary, roughly chopped
salt and pepper, to taste