Slow Cooker Pot Roast Beef Stroganoff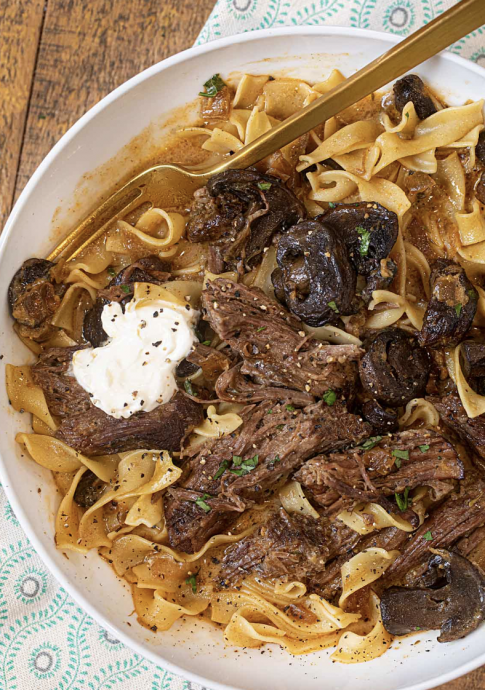 Slow Cooker Pot Roast Beef Stroganoff is the ultimate comfort food with tender chuck roast, creamy sour cream mushroom sauce and egg noodles.
Slow Cooker Pot Roast Beef Stroganoff combines a classic comfort food with a melt-in-your-mouth chuck roast used in our Classic Pot Roast. Slow cooking is hands down one of the best ways to cook chuck roast. The long cooking time turns this inexpensive cut of beef tender and juicy and easy to shred.
If this is your first time making a Slow Cooker Beef Stroganoff, you might be tempted to dump all the ingredients in and be on your way. It's worth all the extra flavor to sear the chuck roast first before adding it to your slow cooker. Unlike a lot of dump and go crockpot recipes, it's important to blend your sauce before pouring over the beef so it gets evenly distributed.
Ingredients:
2 tablespoons vegetable oil
4 pounds boneless chuck roast
1 teaspoon kosher salt
1/2 teaspoon coarse ground black pepper
1 yellow onion , chopped
8 ounces crimini mushrooms , sliced
3 cloves garlic , minced
2 cups beef broth
1 tablespoon dijon mustard
1 tablespoon Worcestershire sauce
1 teaspoon dried thyme
1 teaspoon paprika
1/2 cup sour cream
16 ounces egg noodles , cooked a minute shy of done