Crockpot White Chocolate Haystacks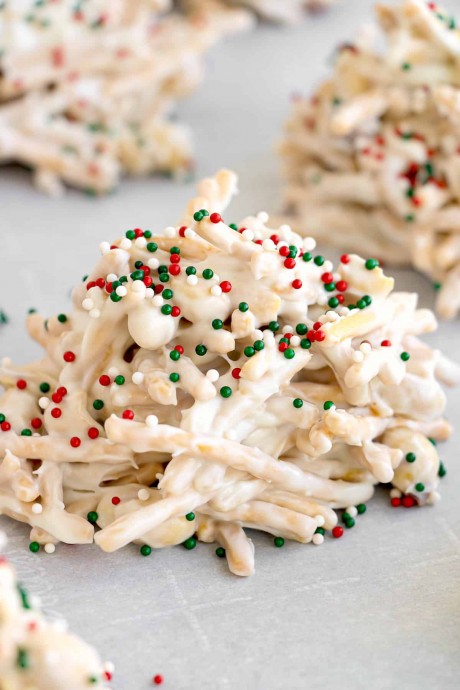 These fun crockpot white chocolate haystacks are a delicious and easy treat to make this Christmas. Made in the slow cooker, they take minutes to prep and are great for the whole family.
I'm sure, you'll love this White Chocolate Haystacks Recipe, because everything is cooked in the slow cooker, no stirring is required! Just 5 minutes to prep! You need just 4 ingredients: Just when you thought this recipe couldn't get better! Just 4 ingredients to make a batch of these tasty treats! And kids love to eat these, but they can also help make them! They'll have fun decorating them with the festive sprinkles! They will keep well for up to a week. I like to take them out of the fridge about 30 minutes before enjoying so that they are slightly softer. If you don't have a slow cooker, you can make these white chocolate haystacks on the stovetop.
These white chocolate haystacks are the festive treat you need this year! Perfectly crunchy and sweet, top them with Christmas sprinkles for a snack the whole family will love. These bites are super crunchy and full of texture, and they are so effortless to make!
Ingredients:
12 oz white chocolate bark or almond bark
2 cups chow mein noodles
1 cup peanuts
sprinkles whatever kind you like