Seriously Good Vegetable Soup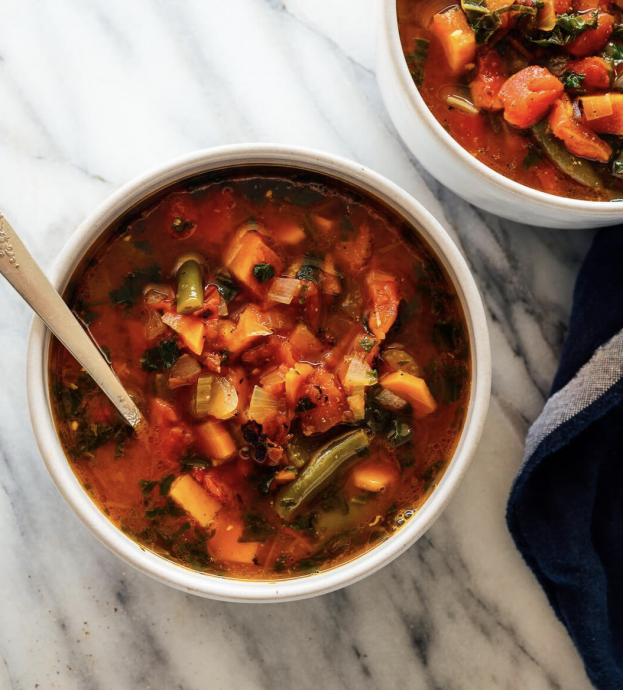 You know how most vegetable soups are pretty tired and "blah"? Not this one! This hearty homemade vegetable soup is full of fresh, wholesome flavors.
I'm excited to share this vegetable soup recipe with you. It's honestly the best I've ever had, and I hope you'll agree. You just might have all the ingredients you'll need to make this easy soup on hand already.
Prepare a batch and you'll have a healthy side dish ready to go for the rest of the week. This soup is a great way to lighten up heavier meals, especially as we get into the holidays. Did I mention that it's vegetarian, vegan and gluten free for all to enjoy?
Ingredients:
4 tablespoons extra-virgin olive oil, divided
1 medium yellow or white onion, chopped
3 carrots, peeled and chopped
2 celery stalks, chopped
2 cups chopped seasonal vegetables, such as sweet potatoes, green beans, butternut squash, potatoes, bell pepper, zucchini or yellow squash
1 teaspoon fine sea salt, divided, to taste
6 cloves garlic, pressed or minced
½ teaspoon curry powder
½ teaspoon dried thyme
1 large can (28 ounces) diced tomatoes
4 cups (32 ounces) vegetable broth
2 cups water
2 bay leaves
½ teaspoon red pepper flakes, reduce or omit if sensitive to spice
Freshly ground black pepper, to taste
2 cups chopped kale or collard greens or chard (thick ribs removed), or spinach
1 tablespoon lemon juice