The Best Green Bean Casserole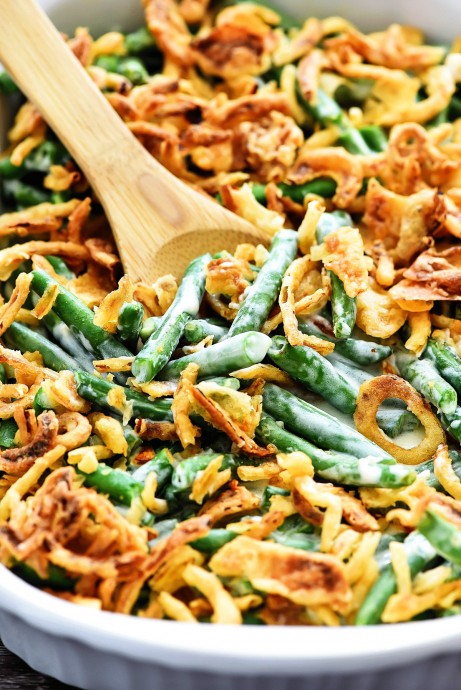 The Best Green Bean Casserole recipe is made with fresh green beans that are covered in a creamy homemade sauce and topped with a layer of crispy fried onions. This delicious dish will make any holiday meal only better! If you're planning on making a green bean casserole for Christmas then this Best Green Bean Casserole recipe is the one you need to make and will not disappoint! The sauce is so easy to prepare and comes together SO quickly, yet it tastes like it's been simmering on the stove all day. It's thick, creamy, buttery and has just a hint of garlic flavor that leaves you wanting more!
I recommend using fresh green beans rather than canned ones because it gives the casserole the most refreshing flavor that's just to die for. That isn't to say that you can't use canned or frozen, if that's easier for you then go right on ahead! By doing so, you may not be able to achieve the same degree of fresh flavor, but it will still have that delicious green bean flavor we've all come to love! Last, but certainly not least, is the French's fried onions. I'd have to argue that these are probably the most important part of the entire dish. They add that much needed crunch and saltines that just completes the dish.
Believe me when I say that this is definitely one of those instances when less does not equal more. I always make sure to be generous and just load them on. They make it totally worth every single calorie.
Ingredients:
1 1/2 pounds fresh green beans rinsed, trimmed then halved
2 Tablespoons butter
2 cloves garlic minced
2 Tablespoons all-purpose flour
3/4 cup chicken broth
1 1/4 cups half-and-half or use whole milk
1/2 teaspoon salt
1/2 teaspoon black pepper
1 cup French's fried onions