Peanut Slaw with Soba Noodles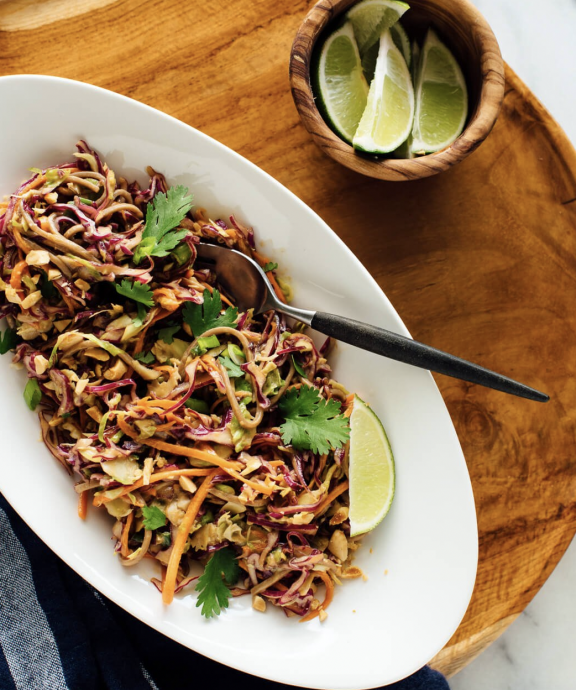 This recipe can satisfy your main-meal cravings (it packs great for lunch), or it can make a statement side dish. It's easily made vegan and/or gluten free, making it an all-star potluck option.
This slaw is made with more vegetables than noodles, so it's nice and light. I tend to get snacky when I'm feeling anxious or unsettled, so I've been taking a fork to this slaw in those moments. Chomp chomp chomp!
Ingredients:
Slaw
4 ounces soba noodles or whole wheat spaghetti
1 very small purple or green cabbage, sliced into quarters and core removed (about 16 ounces/6 cups shredded)
½ pound (about 12) Brussels sprouts, nubby ends removed, or additional cabbage (about 2 cups shredded)
4 carrots, peeled
1 bunch of green onions, trimmed and sliced into thin rounds
Peanut-sesame dressing
½ cup peanut butter
3 tablespoons white wine vinegar or rice vinegar
3 tablespoons toasted sesame oil
3 tablespoons reduced-sodium tamari or other soy sauce
2 tablespoons honey or maple syrup
1 tablespoon finely grated fresh ginger
2 garlic cloves, pressed or minced
Garnish
Sprinkle of coarsely chopped peanuts
Handful of cilantro, coarsely torn
1 lime, sliced into wedges
Optional, for spice lovers: sriracha or chili-garlic sauce