Buffalo Chicken Meatballs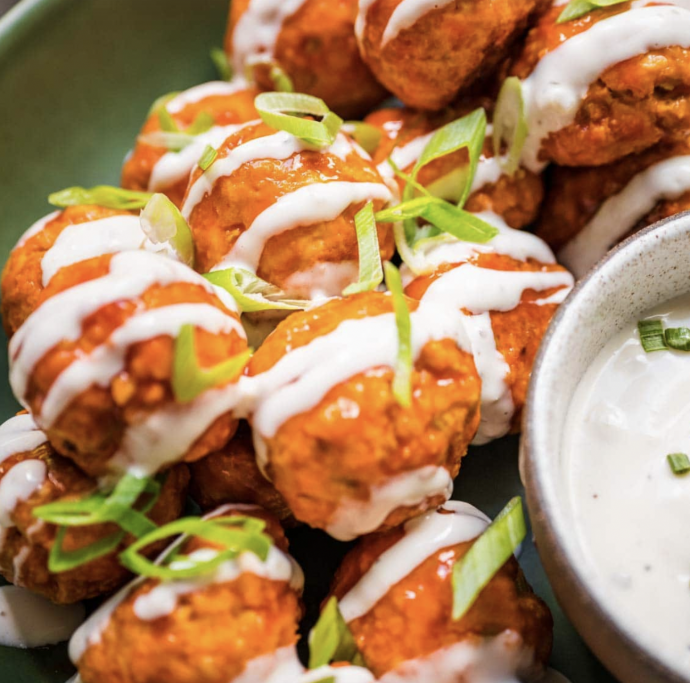 Buffalo Chicken Meatballs is an easy oven-baked meatball recipe with tasty hot sauce and tender chicken. Serve with blue cheese dressing and enjoy!
Buffalo Chicken Wings are always favorite party Appetizers, especially to serve during football season. These tender chicken meatballs have the same spicy buffalo flavor and make a fun alternative to the traditional appetizer.
Crowd-pleasing Buffalo Chicken Meatballs are sure to be a hit at your next family get-together, movie night, or football party. They're incredibly easy to make with ground chicken, hot sauce, and a few other basic ingredients. Once you've baked the chicken meatballs serve them up with creamy Blue Cheese Sauce for the perfect combination of spicy and cool.
If you have any leftovers of the fun appetizer, you can repurpose the chicken balls into a delicious buffalo chicken sandwich. Serve the meatballs in a toasted sub with extra Buffalo Sauce and Ranch Dressing over the top of the meatballs. Then add pepper jack cheese and close the sandwich with the top half of the bread. Amazing buffalo chicken meatball subs make a delicious and filling dinner or lunch.
Ingredients:
3/4 cup panko bread crumbs
2/3 cup Louisiana-style hot sauce , divided
1 stalk celery , minced
1 large egg
1 pound lean ground chicken
Blue Cheese Dressing