Simple Meat Pie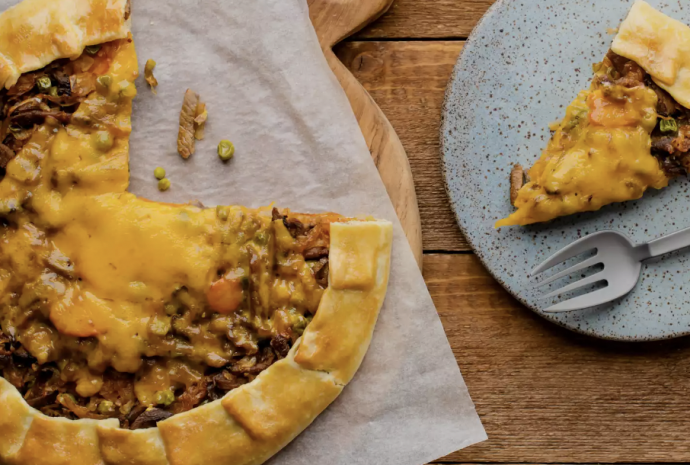 Popular in British cuisine, meat pies are a savory mixture of ground or shredded meat and vegetables in a flaky pie crust. These hearty dishes are a great use for leftover meat, such as roast beef, beef brisket, beef stew meat, pot roast, or even taco meat. This recipe also calls for a few things from the freezer, like hash brown potatoes and frozen peas and carrots. When all mixed together, placed inside a pre-made pie crust, and topped with cheddar cheese, this is an ideal all-in-one dish for a busy weeknight.
To make this simple free-form pie, the frozen hash browns are cooked along with sautéd onion, and then the vegetables, Worcestershire sauce, ketchup, and cooked beef are added and cooked until warmed. The filling is spooned onto the pie dough, the edges are folded over to make a rustic pie, and then it is baked until golden brown; a few slices of cheddar cheese melted on top are the finishing touch. And no need for a pie plate or top crust here—the meat pie is formed and cooked on a baking sheet, making for quick assembly and a homemade look.
If you don't have leftover cooked meat, you can make this pie with pre-cooked refrigerated beef tips or cook some ground beef along with the onion before adding the hash browns.
Ingredients:
1 refrigrerated or frozen pie crust
1 tablespoon canola oil
1/2 cup diced onion
1 1/2 cups frozen hash brown potatoes
3/4 cup frozen peas and carrots
2 tablespoons Worcestershire sauce
2 tablespoons ketchup
1 cup leftover cooked shredded roast beef, brisket, or pot roast, or beef taco meat
Kosher salt, to taste
Freshly ground black pepper, to taste
3 slices American cheese, or cheddar cheese