Crispy Falafel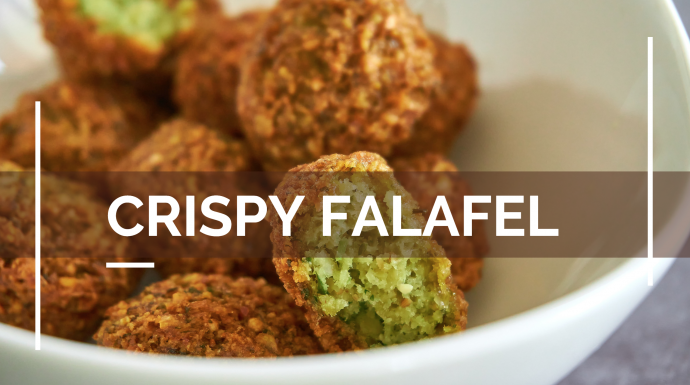 Falafel is a popular Middle Eastern food made with chickpeas, mixed with herbs, spices, and then deep-fried or baked. Ultra crispy on the outside, moist and fluffy on the inside, everybody loves them but only few people know how easy they are to make. After lots of kitchen testing, this falafel recipe has become our favorite way to make falafel. The recipe is straightforward, 100% plant-based, and they taste incredible.
Tips: how to make the best homemade falafel
1. Falafel is great both fried and baked. While frying requires a lot of hot oil, it is makes falafel perfectly crispy. Oven-baked falafel is a lot easier when time is short, and there's no oil splatters on the stove.
2. Coat your rimmed baking sheet with olive oil. That way, you get a fried effect in the oven, and you don't have to brush the little falafels individually with olive oil. Winning!
3. Use dried chickpeas, not canned. Canned chickpeas do not work for falafel. They're far too wet. If you try to use canned chickpeas instead of dried and soaked chickpeas, you'll end up with sad falafel pancakes. Some recipes try to counteract the wetness by adding flour, which significantly dulls the flavor and makes the texture more doughy.
Ingredients
250g/9oz/11/3 cups dried chickpeas
1 litre/13/4 pints/4 cups water
45–60ml/3–4 tbsp bulgur wheat
1 large or 2 small onions, finely chopped
5 garlic cloves, crushed
75ml/5 tbsp chopped fresh parsley
75ml/5 tbsp chopped fresh coriander (cilantro) leaves
45ml/3 tbsp ground cumin
15ml/1 tbsp ground coriander
5ml/1 tsp baking powder
5m/1 tsp salt
small pinch ground black pepper
small pinch cayenne pepper
5ml/1 tsp curry powder (optional)
45–60ml/3–4 tbsp gram flour
vegetable oil, for deep-frying
Directions
There are 2 best options: deep-frying for crispy falafel (traditional way) and oven-baked option.
My family loves the traditionally cooked fried falafel, while I prefer them baked. Let me share both options with you:
For deep-frying
Step 1
Put the chickpeas in a large bowl. Pour in the water and leave to soak for at least 4 hours, then drain and mince (grind) in a food processor.
Step 2
Put the minced chickpeas in a bowl and stir in the bulgur wheat, onion, garlic, parsley, fresh coriander, ground cumin and coriander, baking powder, salt, pepper, cayenne pepper, and curry powder, if using.
Step 3
Stir in 45ml/3 tbsp water and leave for 45 minutes.
Step 4
Stir the gram flour into the batter, adding a little water if it is too thick or a little wholemeal flour if too thin. Shape heaped tablespoons of the mixture into 12–18 balls.
Step 5
Heat the oil for deep-frying until it is hot enough to brown a cube of bread in 30 seconds. Lower the heat. Cook the falafel in batches for 3–4 minutes until golden brown. Remove with a slotted spoon and drain on kitchen paper before adding more to the oil.
For baking:
How to bake falafel in the oven? It's really easy!
Step 1
Pre-heat your oven to 425F. Lightly spray or brush a baking sheet with oil. Place the falafel on the baking sheet, lightly spray or brush the top side with oil.
Step 2
Bake for 25-30 minutes, flipping halfway through. You can also bake them on parchment paper or a silicone mat without any oil. They'll just be slightly less crispy and golden. Serve and enjoy!
No matter which method you choose, they look pretty similar once cooked. A perfectly golden outside and bright green inside!
Which method do you prefer? Share with me your favorite option!