Apple Cider Donuts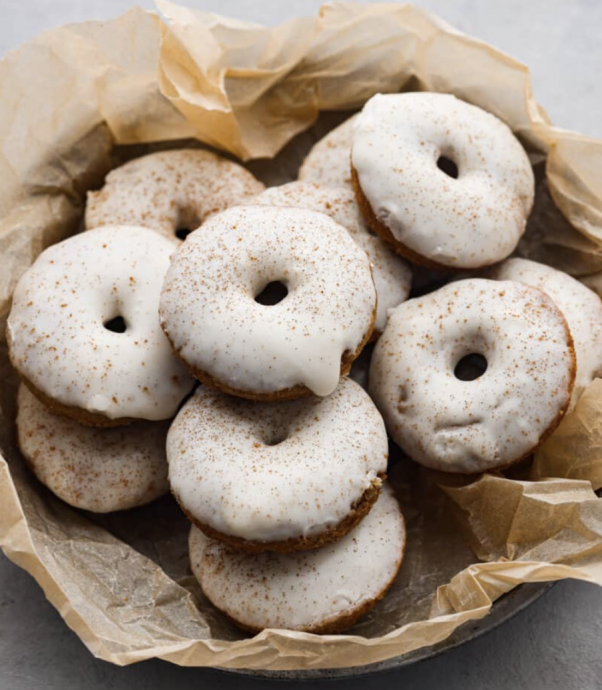 These baked apple cider donuts are rich, soft, and filled with spiced apple flavor! Topped with a creamy apple glaze, they almost look too good to eat! They're the perfect addition to any fall get-together.
Love donuts? Do you also love spiced apple desserts? This is the best combination of the two. These apple cider donuts are rich, moist, and filled with mouthwatering spiced apple flavor. One bite and you'll be hooked!
These donuts have a moist, cakey texture that you're going to love. With how soft and flavorful they are, you won't be able to stop at one! The vanilla apple cider glaze on top not only makes these donuts look amazing, but adds an extra pop of flavor as well! They'll be a hit at every fall gathering.
Ingredients:
2 cups apple cider ½ cup reduced cider
2 ½ cups all purpose flour
2 teaspoons baking powder
1 teaspoon baking soda
2 teaspoons cinnamon Plus more for garnish
½ teaspoon clove
1 teaspoon allspice
½ teaspoon nutmeg
½ teaspoon cardamom
½ teaspoon salt
3 tablespoons butter melted
1 large egg room temperature
1 cup packed brown sugar
½ cup whole milk room temperature
1 tablespoon vanilla extract
1 cup shredded apple
Glaze:
2 cups powdered sugar
½ packet apple cider drink mix
1 tablespoon vanilla
6 tablespoons milk