Applebee's Chicken Salad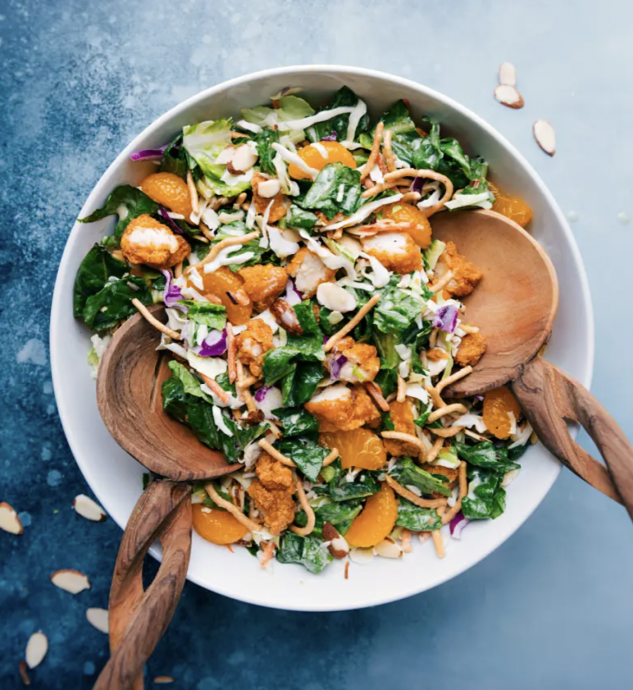 This easy restaurant copycat Applebee's Chicken Salad combines romaine and coleslaw with crispy chicken, sliced almonds, crunchy chow mein noodles, sweet mandarin oranges, and an irresistible creamy & sweet dressing.
his Applebee's Chicken Salad is a part of our "Back-To-School Lifesavers" — a series of recipes that are intended to have little (or no) veggie chopping, minimal prep time, around 10 ingredients or less (not including pantry staples), and use kid-friendly ingredients.
Applebee's Chicken Salad is mega-popular — and for good reason! It's crunchy, sweet & savory, and completely satisfying. If you order the salad in the restaurant you're looking at spending a good chunk of change and over 1500 calories, but making it from home can be tedious, expensive, and not so nutritious too!
So today we're simplifying the process, making it a bit more nutritious, and doing this all while keeping all the flavors you know and love.
We do add one ingredient you won't find in Applebee's salad — mandarin oranges; we love the sweetness and texture these add to the salad, but feel free to leave them out for a more authentic version.
Ingredients:
2 cups frozen breaded chicken tenders Note 1
1 package (10 oz.) hearts of romaine salad Note 2
1/2 of 1 (16 oz.) package coleslaw mix--227g Note 3
1 can (15oz) mandarin oranges
1/3 cup crispy chow mein noodles Note 4
1/3 cup sliced almonds
DRESSING
1/3 cup good mayo (we love Hellman's/Best Foods)
3 tablespoons honey
2 tablespoons rice vinegar
1/4 teaspoon toasted sesame oil
1-1/2 teaspoons Dijon mustard