Chicken Spinach Salad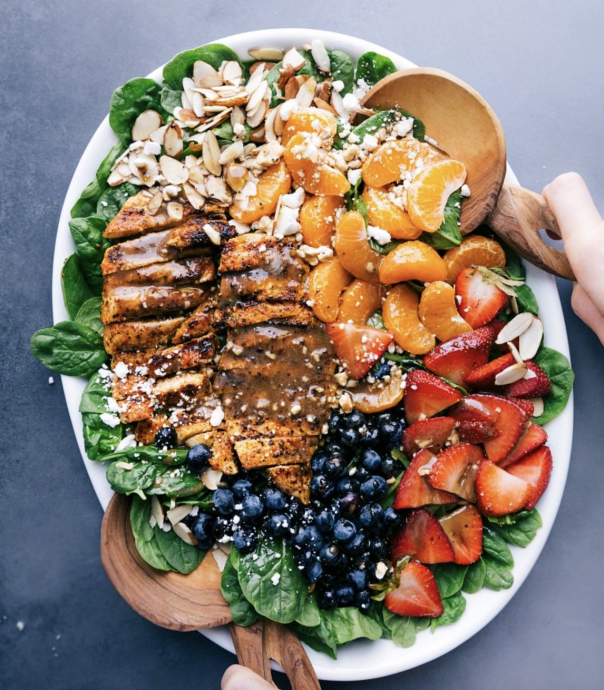 This Chicken Spinach Salad features seasoned chicken breast, sweet strawberries, juicy oranges, tart blueberries, sliced toasted almonds, and a sprinkle of feta cheese. The salad is dressed in a simple four-ingredient balsamic vinaigrette.
Add some additional berries like blackberries or raspberries (or swap out strawberries or blueberries for a different berry).
Replace the chicken with grilled and thinly sliced steak.
We love feta cheese best, and another great option with this salad is goat cheese. The salad is also great without any cheese!
Add a chopped avocado for a creamy element.
While I think the balsamic dressing recipe is so good and highly recommend trying it (I promise it's so easy to make!) you can also use store-bought dressing. Here is an article to guide you through choosing the best balsamic dressings to purchase.
Ingredients:
1 large (8.5 oz; 250g) boneless skinless chicken breast (plus olive oil, salt, pepper, and seasoning blend such as Mrs. Dash chicken grilling blends seasoning)
4 cups (88g) baby spinach
1/2 cup (77g) fresh blueberries
1/2 cup (70g) fresh strawberries
1/2 cup (88g) clementine or mandarin oranges (~1 clementine)
2-3 tablespoons feta cheese
2-3 tablespoons sliced almonds
Salt and pepper
DRESSING
1/4 cup (50g) olive oil
1 tablespoon balsamic vinegar
1/2 teaspoon Dijon mustard
1 and 1/2 teaspoons honey